When I finished my analysis on my favorite wireless mice, (you can read that here), it felt like the natural thing to do next, was cover the keyboards, because when you've eliminated that mouse cable, the keyboard cable is your next enemy, and my favorite variety: the mechanical kind, so here we are.
Ultimately all these boards are mechanical, so they're going to have that feeling your used too, the one we've all come to love, but wireless introduces battery, which I feel comfortable accepting with a mouse for example, because QI charging has stepped in to negate that issue, but when it comes to keyboard, what is there? You're going to have to plug it in, which for me leaves a sour taste.
Now, this is a pretty niche space, you have the wireless keyboard camp, which contains thousands(?) of wireless keyboards, all sorts, then you have the mechanical camp, which again, contains a tonne of great boards, but when you try for wireless and mechanical, suddenly those numbers drop a bit, but there's just enough to get some comparison going, and provide insight. So without further ado, here are what I think are the six best wireless mechanical keyboards;
Now, I know what your thinking, this isn't a very big market space right now, still in its infancy, so surely the Corsair just stomps on everything, and honestly it doesn't, sure it's probably the one that has the most brand trust, after position 3 in this list, it certainly starts getting obscure, but that's just the nature of this space: its new.
The K63 comes as part of a trio really, it's being marketed as a living room solution for use and is designed to fit perfectly onto Corsairs lapboard, which I've got to admit is pretty cool, and the perfect place for your new wireless mouse, that this post can help you decide.
The K63 uses either Bluetooth 4.0, 2.4Ghz wireless via a small dongle or a USB wire, but you won't want to use that one. Securing the wireless connection to your PC is a 128-bit AES encryption, so you can be sure that your keypresses remain between just you and your character on Battlefield.
It promises to be comfortable too with a detachable wrist wrest you can use to keep your hands on level with the board.
Lighting
Yes. -just kidding, but the K63 as you have come to expect from a company like Corsair has customisable and dynamic blue backlighting, and by using their iCUE software you can link it in with all your other Corsair products, and get that RGB to the next level, or just B.
If your theme is blue, it's going to fit right in, however, if you ever change that, just remember your K63 is going to stay blue- but it is a nice blue.
Switches
Exclusively available (at the time of writing) in Cherry MX Red, being the soft quiet switches, I think this was decided with the living room in mind, reducing the clatter of an MX Blue for example, personally I use MX Blues, but I live for that familiar racket, either way, your still going to get that ever satisfying mechanical feel.
There's 87 keys on the board, and it is tenkeyless, so if that's a requirement, you might need to keep scrolling, full key rollover means your combos will always register how you planned them too, it also features dedicated media keys, and volume control, along with a windows key lockout, so you don't tab out when your clutching.
Battery
Corsair says you can expect around 15 hours of wireless use, via its internal rechargeable battery, which is OK, but it's just that, you can plug the K63 in and continue, but as I said earlier, I don't know how I feel about this, but maybe Corsair is thinking you'll take this and your lapboard, along with your Dark Core mouse, sit down on the sofa, have a good session and then it all goes away back on charge, which makes more sense with only 15 hours of battery life, but what about those of us who don't want a lapboard?
Summary
A solid first board in the list, you know what your getting with Corsair, it's a brand we've all come to trust, the K63 will set you back £113 at the time of writing, and that's if you don't want a lapboard, if you want their whole trio, the mouse, keyboard, and lapboard, your looking at around £260, which to be fair isn't bad.
It's a good looking board packed with useful features and would certainly make a good addition to any battlestation, the single colour backlighting could be considered restrictive, if you like to mix up your colours, just know your board is always going to be blue.
I think really, in the same way as Corsair, Logitech is a brand we can trust, not to say that you can't trust the others in this list, but I feel like when you say a name like Corsair or Logitech, you know what your getting, there's almost no gamble, and surely the G613 has that on its side.
Its a little bit incognito, which isn't necessarily a bad thing, too often in this golden age of RGB do we fall into the trap of thinking everything must look like a transformer, but there can still be beauty in a more simple and refined design, on the other hand, you might take one look and think its boring. I think I sit somewhere in the middle ground, I don't think it looks bad by any means, but there's also no backlighting, so just be aware, shes plain.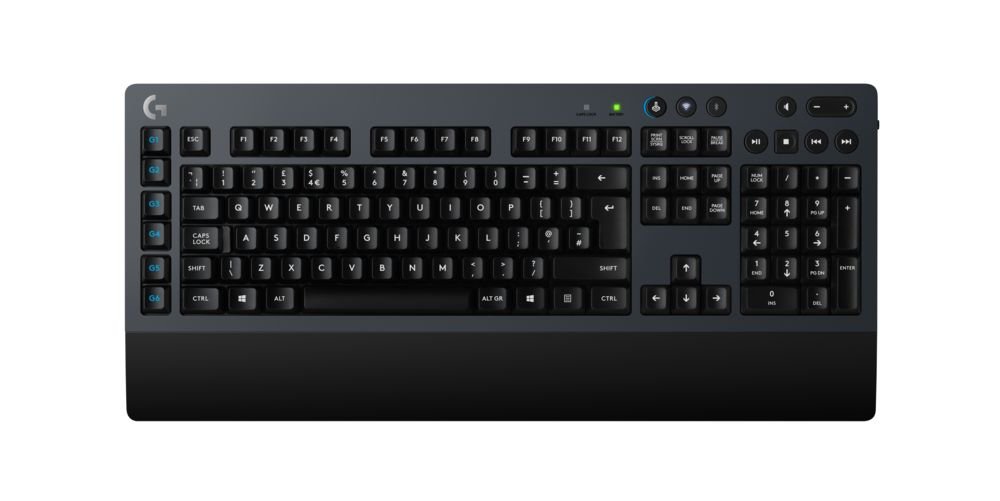 Lighting
So, there isn't really any, this will be a short section, in fact the only light, I think, resides in the battery life indicator and the wireless button, which will allow you to connect to other devices.
Switches
Romer-G is Logitech's answer to the fact that Cherry MX switches have been around forever, and certainly weren't made with gaming in mind, though we have come to love them for that regardless, I won't go into too much specific detail but the general idea is that they travel less and have the same required force, so statistically speaking, they're... better?
It would be wrong for me to push a certain switch onto a person, its something you should feel for yourself, but perhaps the Romer-G is a good place to start looking, they function the same, and have that satisfying clunk, so they tick the boxes for me!
There is 6 programmable G keys, and dedicated media keys also,
Battery
This is a bit of a shock in this list, as Logitech claims that with just 2x AA batteries, you could get 18 months of use out of your G613, now sure that depends on conditions, depends on type of use and other variables, but still even if it's half that number, compared to the internal batteries on all the other boards in this list, that is insane, and certainly alleviates my concern about constantly needing to have the cable to hand, arguably defeating the point of going wireless!
Sure you need to buy the batteries, but if Logitech is at all accurate, here is 9 years worth of juice for less than a tenner. Cant argue with that. The battery life indicator will let you know with plenty of time that it's on its way down, and the software on your battlestation will also kick in if you have it installed.
However, you could view this as a negative, it's a reach for sure, but if your really against buying batteries when the alternative is no batteries but you have to charge your device a couple/few times a week, that's something you'll need to decide for yourself- I can certainly see the value in the AA solution.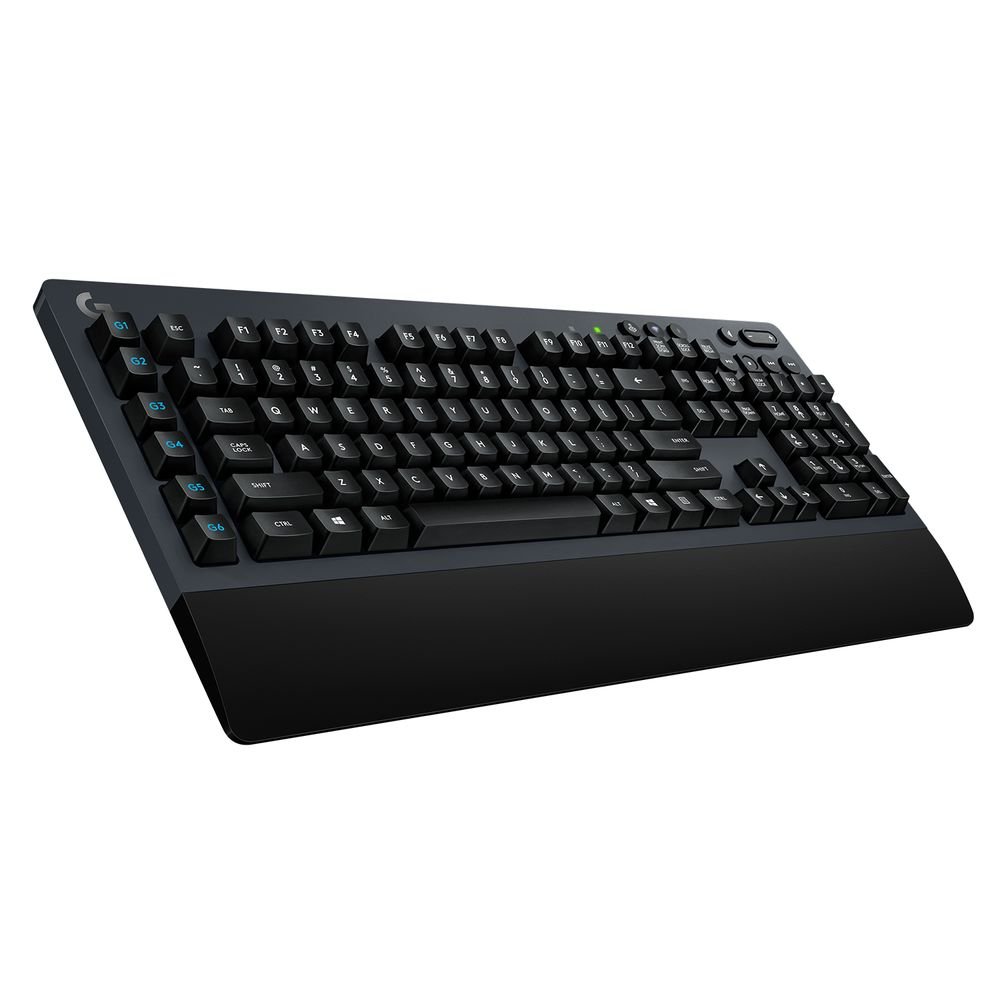 Summary
It's a smooth black keyboard that makes no attempt to announce itself, this means a cool but understated design you may prefer. Youll likely never wear out the keys, as Logitech say each Romer-G is good for about 70 million keypresses, and each of those presses should net you around a 1ms response time.
A very generous Logitech will also ship the G613 with the required batteries, meaning your good for around 18 months straight out of the box, and at just £68, its a bit of a steal.
It also comes with a phone stand, for some reason.
The Anne Pro 2 is a smaller board, specifically a 60% board, with 61 keys, and will set you back around £99 on Amazon, with generally good reviews, in fact, 5 stars across the board. It uses Bluetooth 4.0, so no dongle which is nice, and it has that 1ms response time that we've come to expect from our wireless peripherals.
The USB connection on the board is a glorious type C connection which personally I welcome with open arms, one less cable type to keep around but remember we don't want the wires to be the focus of our review, though, with 8 hours battery, I can't say with confidence that you'll be able to put that cable away for a long time.
Lighting
Its RGB backlit, and can show you up too 16 million colours,
Switches
So depending on where you get it, you can get either Gateron switches, or Khail Box switches, the official Amazon link has Gateron Blue, Brown, and Red, and then Khail Box Brown, and White, so you're still getting that familiar mechanical clack, but from a lesser brand for sure, but still a popular and well reviewed brand of switch.
Battery
Its claimed that the Anne Pro 2 can keep you going for about 8 hours on its 1900mah battery, which depending on your habits is either a few days, or.. a day, which personally I think is a bit on the light side, however, it's not too non-typical of an internal rechargeable battery.
Summary
It's a good board and is well liked by the community, though 60% for some people is a bit of a no-no, the obvious reason being that you're missing a lot of those extra keys, however, the other side would argue that they're all the unnecessary keys.
The board goes a way to circumvent this being an issue with alternate function keys such as the arrow keys functioning as your back and forth, and a few of the keys have different behaviour when tapped or held. With 16 macro groups, you can set up different actions to aid the fact you're now missing a few keys.
For me, I don't think I'm about that 60% life, not to say that I won't own one eventually, but right now, I'm all about that full-size board life.
The MINILA Air 67 is another quite understated board, coming in one variety, black, and the 67 in the name stands for 67 keys, that may or may not be obvious, but you guessed it, its a shorty, so keep that in mind when making your choice, its also on the higher side of all these boards, coming in at £120 on Amazon.
It uses Bluetooth 3.0, and can be paired with up to 3 devices in memory, so it will automatically connect to the nearest device it can, that its seen before.
Lighting
The MINILA Air 67 doesn't feature any transformer-like features or lighting, except those in the status LED in the top right of the board.
Switches
Using the ever familiar Cherry MX switches, available in Blue, Brown, Black, or Red, it's going to feel very familiar if your coming from another Cherry board but is going to provide that smooth satisfying feel of a mechanical keyboard.
There are also lots of multi-function keys so that technically you can access all the keys of a full-size board, albeit by using function keys, so not quite as easy, but it's there at least, uniquely using their double function thumb keys that sit either side of the space bar.
Battery
Surprisingly, the batteries in this board can last for a claimed 6 months, if used for 5 hours a day, as it too runs on 2x AA batteries like the Logitech, which again, same as before, that's a refreshing number amongst this lot, I have to say. Naturally, your mileage may vary, but again if its half that life I'll be impressed still!
Summary
The board is a solid board, and it's hard to ignore those battery statistics, but when you're dealing with hours and then something comes along that deals in months, it's got to be a game changer.
There's not a lot going on visually with the MINILA Air, but maybe that's your thing, perhaps you've had enough RGB rammed down your throat to last you a lifetime, it can get tacky if not executed properly, but there's no risk of that happening with this board, it'd feel just as much at home in an office, then it would at home with your battlestation, but I'm not sure how your coworkers would feel.
Another board with 67 keys here the anidees Prismatic promises to be extra thin and light, and is a looker too, starkly different to the MINILA for example, but with a mostly metal alloy body, it's going to be strong too. Much like the other boards it can function wirelessly via Bluetooth only or wired, however Micro USB is used here, so points docked for that.
Lighting
With 13 types of RGB backlighting available your bound to find a layout of colour to suit you, and can even achieve the fabled rainbow effect going across the board in a gradient.
Switches
Featuring Fraly Blue switches, which are as clicky as their cherry counterparts, (blue ftw) and feature a low profile, with just 11mm switch height, which might be a deal breaker, rather than the traditional mechanical keyboard key you are used too, this is much flatter, more akin to what you'd find on a laptop, but with a little blue switch buried under there. That's not to say it's not different, it has a unique feel because of this setup, and probably worth trying before you commit.
Battery
The anidees uses an internal rechargeable battery and boldly claims up to 7 hours battery life with all lighting cranked to party mode, and then a respectable 15 without all the lights, which is not bad for an internal battery, but I'm not a fan of 'reducing' my devices to lengthen their battery unless I really have too, it feels like if you bought it for a feature like the RGB you deserve to keep that turned on!
Summary
This is a tricky one, on one hand, I really like it, I think it's brave to do something so against the grain and the board looks great for it, but on the other hand, is a mechanical keyboard lover going to buy something with chiclet-style keys?
Let's assume the switches are not part of the equation, it's a good looking board, and probably some of the best RGB options in this list, so if weight and lighting is important to you maybe this should be the board you check out next.
Featuring 71 keys the Drevo sits somewhere in between a shorty and a full size board, you get those ever useful arrow keys back, along with DEL + END, and all those other surrounding keys which admittedly, we do use less off, but it's good to have them.
It uses Bluetooth 4.0 and is very cheap coming in at around £54 at the time of writing here on Amazon while coming in black or white.
Lighting
The Drevo has 7 different lighting effects available, all with some unique names such as Reactive, or Ripple, and these effects can be used on custom backlighting.
Switches
Outemu switches are used here and they come in the familiar 4 choices, Black, Blue, Brown, Red, and while they are not Cherry, their characteristics do correlate to that of a Cherry switch, I wouldn't say that these switches are market tested yet, they haven't had time to do the proverbial rounds and earn their place, but will serve you similarly to a Cherry, though, no o-rings come with this board so keep that in mind.
Battery
Using an internal rechargeable battery, the DREVO will keep going for up to 20 hours, which is certainly on the high side for an internal, and in just 2 hours it can be fully charged, perhaps this is that safe middle ground where you have plenty of time to plan your charges, and don't have to commit the afternoon to do it- however, your mileage may vary.
Summary
This thing is cheap, sometimes costing less than half of other boards in this list, and while that may be attributed to a lack of quality elsewhere it's not too noticeable here, the board is plastic but fairly sturdy, and the RGB is full-featured, with colour choices you could equip the board to suit any battlestation.
Conclusion
So, which keyboard is the one for you? They've all got their pros and cons, that's the nature of the game, if battery life is a concern for you, its got to be either the Logitech G613, or the MINILA Air, and of the 2 if you want to feel less like your beta testing the new guy, go with the Logitech, the price is around half which is a killer.
If you are looking for pure brand power, its got to be the Corsair, one of the biggest players in the space you'd like to think they know what they're doing, and their board shows it, though it's a bit on the expensive side, and the battery could be better, at least your getting those familiar Cherry switches.
Something different? Go for the anidees with its Chiclet-style keys, and if RGB is a must, the Anne Pro or the DREVO will serve you well, it's hard to ignore the DREVO price point.
My personal pick would be the Corsair K63, it feels snobby to type it out but I think that's because if I was spending this amount, I'd like the backing of a large company like Corsair, and a community with a tonne of people all praising them doesn't hurt when your making these choices.
Thanks for reading, if you've got a different wireless mechanical keyboard you think belongs in the running, let us know at hello@rigz.io!