Introduction
Here is Jensen's setup, its a beauty, in fact, his whole office is, let's get into this rig.
Welcome back to Rigz, if you don't know what its all about, feel free to read the welcome post or our about page! we've reviewed a couple rigs so far, with our latest being u/jensen0288, but we'll just call him Jensen, so without further ado; his station.
First thing I see is a lot of white, Jensen obviously had a theme in mind here, or a happy accident, either way, it has come together very well.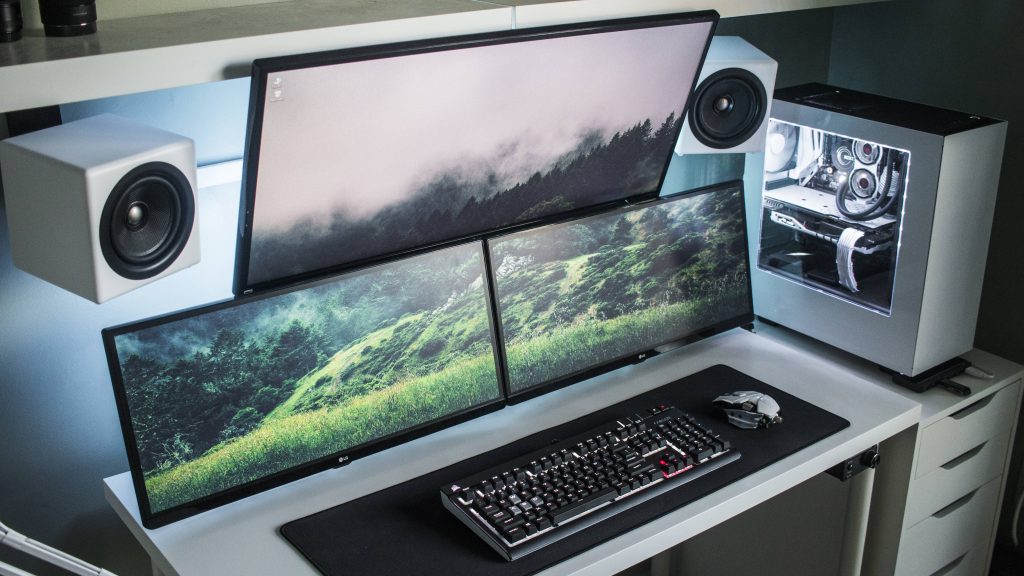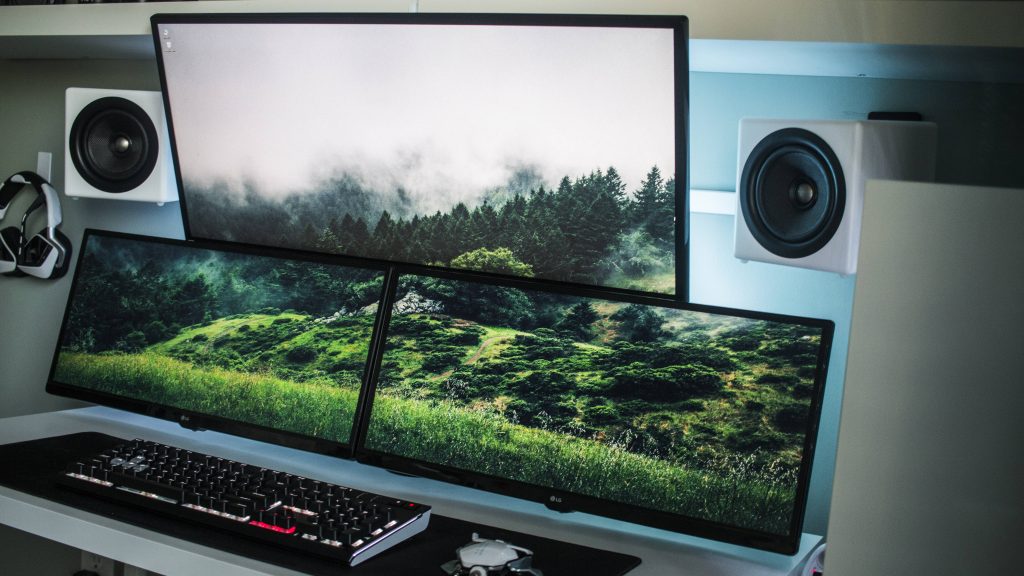 The great wallpaper,  you can grab that here, this monitor setup has never been something I have thought about doing, being uncertain about how it would end up looking, but if produced something half as cool as what Jensen has got in his setup, I would be very happy. I know what your thinking, the monitor setup, its... different;
To be honest, it's not as bad as people think. I've positioned everything to my liking, and with the way my chair leans back, it doesn't strain my neck.
Setup
The desk comprises of the classic IKEA deal, a Linmonn & some Alex drawers, a very popular combination, but you can see why the IKEA stuff looks very clean. From here I would recommend Jensen aims for something like the IKEA HAMMARP, they're quite pricey, but they are solid wood. The only downside is you have to finish the piece yourself, so getting gloss white may be easier said than done!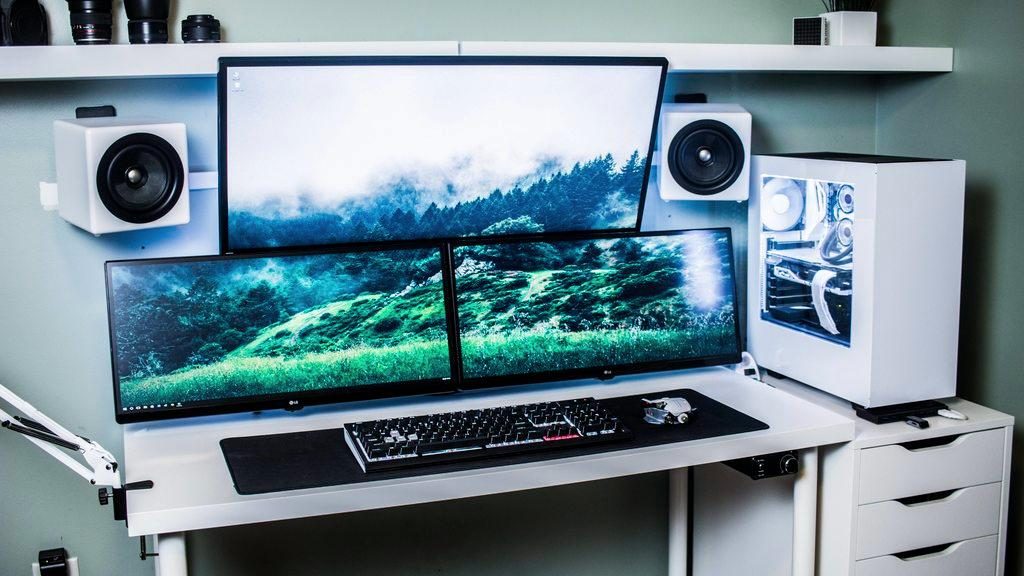 Leading us to the monitors in place here which are obviously the focal point of each shot, are equally as impressive, with an LG 34UM56 34" up top, running at 2560 x 1080, and then two LG 25UM58 25" monitors on the bottom, again running at 2560 x 1080; He had this to say on the monitor layout also;
Video editing is handy with this setup. Ex. Timeline on bottom two monitors, and the main screen can hold your sequence stuff. Another one is photography editing/design. Main monitor for lightroom/photoshop, and the bottom monitors to use the browser, surf, display cpu info, etc, etc. In terms of gaming I use the top monitor as my main, and the bottom two for surfing, and other misc stuff. It would be the same for any other triple monitor setup, no?
Up next at the heart of this build, sits an i7 6700k, cooled by an NZXT Kraken X61, all of this sits on top of an ASUS z170-A board- with Ripjaw DDR4-3200 RAM, as you can see below, its very a well put together setup.
Theres even a RAM cooler in there, to the tune of a G.Skill Turbulence III Memory Cooling Fan, which as Jensen says, is overkill, but still awesome.
Haha, complete overkill. Not necessary, but still awesome!!
Which brings us to the graphics card here, which is a custom painted MSI Radeon R9 390 8GB, and beautiful white sleeving to match the whole theme. I love cable sleeves like this, and still, need to get round to doing it to my own build- it definitely polishes off a setup.
Leading us to the bottom of the case, here you can see the storage of choice for this battlestation, a Samsung 850 EVO, (wise choice) and a Seagate 1tb 7200RPM, presumably for storage! The attention to detail here is great, for too long have SSD's merely hung in the hidden side portion of cases, they should be proudly displayed like so.
Keyboard
Pictured above is Jensens RGB Strafe, a fine choice of board, which apparently got 9/10 on IGN India if that means anything to you... Either way, solid board. of course, the lighting set to a clean white, because anything else would just look weird at this point, if you're going to do stormtrooper, you ought to do it right, as Jensen has done!
Mouse
Now Mad Catz is an interesting one, on one hand, I remember receiving some quite disturbing player 2 controllers,t and I've always thought they were from them, but that was a long time ago, maybe I should let my stigma go, it is a pretty out there looking mouse, like a Lamborghini- striking lines and I'm sure; equally good performance.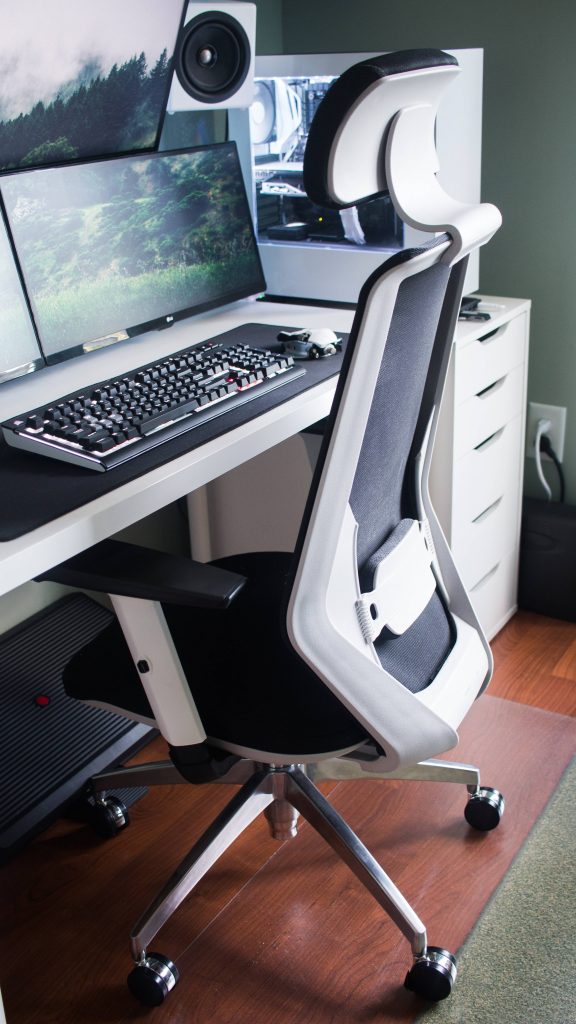 The chair featured is a VIVO High-back Mesh office chair, from the photos it looks great, almost like a slightly stripped out Herman Miller, however, Jensen thinks its a bit plasticky.  looks good from here though and certainly compliments his setup.
It's a great looking chair, and quite comfortable! Although there are lots of plastics, and build quality is a bit meh.
As you probably know, chairs are tricky, a long time ago I was looking to buy my first office chair, I saw a reasonable looking chair at a good price, but then saw another, before sitting on the second one to try it out, I saw the price, I shouldn't have even gone near the pricey one because I knew if I were to sit on it, id be leaving with the expensive chair... and well I'm sat on it now, so the lesson is to never try anything. 🙂
Sound
I found what Jensen thinks of the VOIDS
I have had no issues with that mic. Sounds awesome, no weird humming, battery life is fantastic, simple plug and play, and most importantly...RGB! lol.
Im currently in the market for a new headset myself, actually, and i hadnt heard of these! Ill be checking them out.
Excellent colour matched microphone holder here, but don't get too excited, the white is just a happy coincidence.
I wish it was custom, lol. I purchased it off ebay, a no-name brand.
Certainly looks like its doing the job fine though. The speaker setup here is great, having them out at the side at head height probably makes for some great listening too- the speakers are KANTO BEN's, no not that Kanto- but as if they would have been any other colour; looking great in white; find them below on Amazon. What do you make of the speakers Jensen?
Love them! Although I don't have the kanto sub, so it is missing a bit of bass. Hope to buy it in the near future!
An amplifier to drive better sound & a USB Hub to plug stuff in, just a couple of essentials.
Conclusion
This whole setup must all get dusty though right?
Sigh, it does get quite dusty. Need to invest in a great air purifier or something.
Finally, the pièce de résistance here, the money shot. also a sneak into the cable management behind this build. I've really enjoyed featuring this one, and the photos are of excellent quality!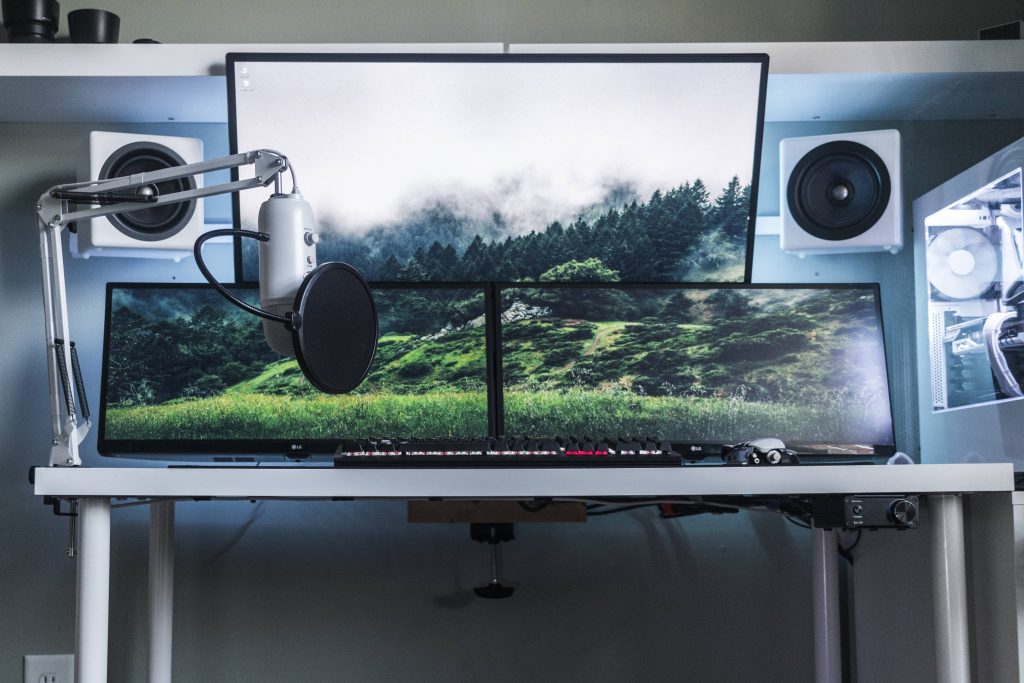 Thanks for allowing it Jensen, your rig is lovely. once again if you want the wallpaper, you can grab that here.
I hope you have enjoyed reading as much as I have enjoyed writing, why not let me know what your favourite part of the build is?