Lighting can be one of the most important parts of your Battlestation or gaming desk, and when used intelligently it can create astonishing results. Transforming the mood of a room completely, often at the touch of a button.
So how do you light up your Battlestation? What are the best products for lighting up your battlestation or gaming room? I aim to answer all of that and more in this article.
LED Strips
These are going to be a staple piece in your battle against the darkness, you will likely adorn most surfaces with LED strips as you build on the lighting for your battlestation, there are different levels you can go down, depending on your preference, at drastically different price points, however also with different feature sets that you may find more useful than others.
There are flexible LED strips, rigid ones too, there is RGB, and then there is single coloured, it depends on your needs.
Something like this is relatively inexpensive, and plenty long enough to loop around the base of your desk for example, and it's probably going to be fine- that is to say, it's definitely going to provide you with some great RGB under-glow, but keep in mind you're likely always going to be forgetting to turn it on or turn it off, you can't typically store profiles in this type of product.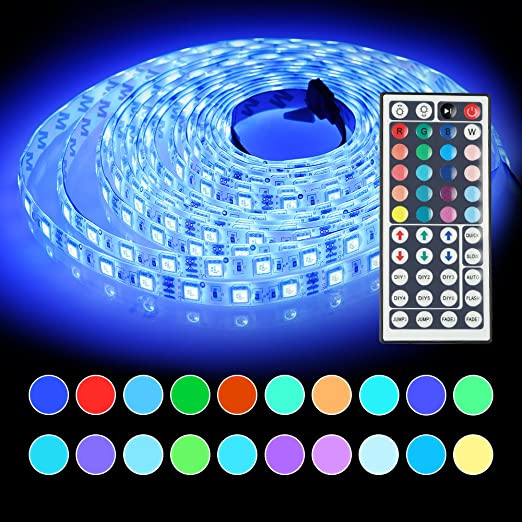 You get the idea- it's going to work, but that's about it. Then you get something like Hue here, as you can see, the price.. yikes- but with this comes the power of smart lighting, you now have access to profiles, voice control, and much more. You can have your under-glow lights come on when the main room light is turned on for example, which is down to you to decide how much it's worth to you.
Nanoleaf
This wouldn't be a post on battlestation lighting if I didn't mention the Nanoleaf, it's a very popular product, and with good reason, they are one of the best at what they do, and the battlestation community knows it.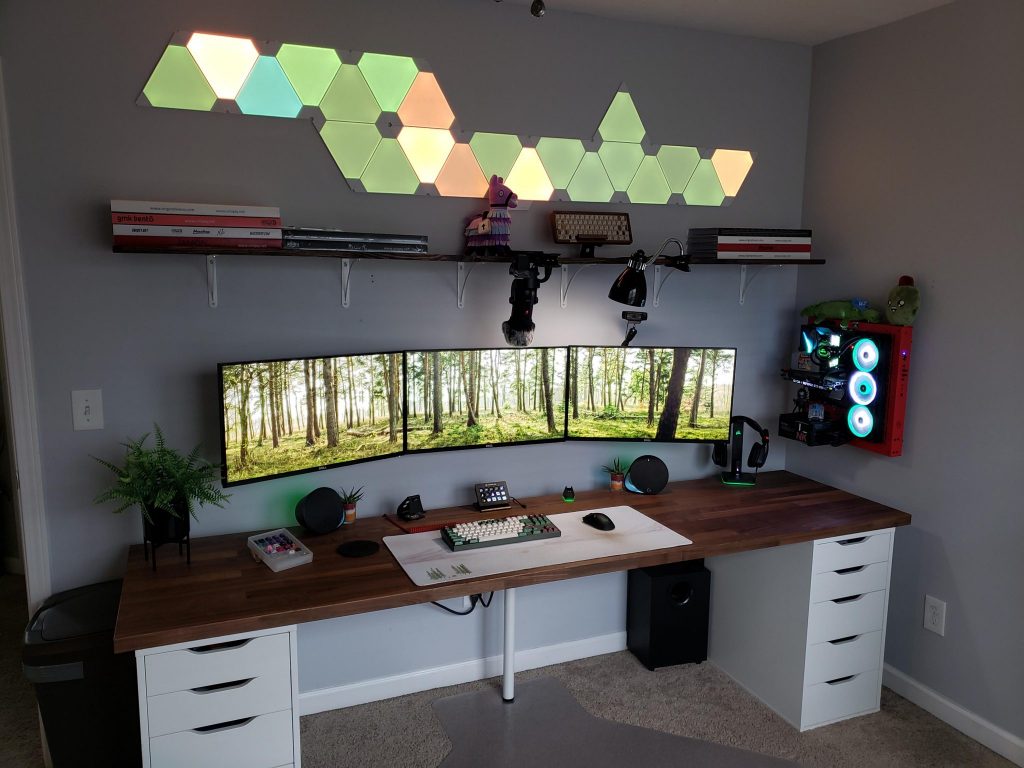 So what are they? Well, simply put they are hexagonal panels that light up, and you can link multiple amounts of them together and create any design or layout that you like, achieving a beautiful effect, as near as damn-it to flat on the wall.
When you begin to delve into controlling the Nanoleaf's and aligning them to the rest of your build, you can see how they can transform a room, lighting up areas you previously considered impossible to illuminate!
There are also touch-sensitive actions you can incorporate into your Nanoleaf, so you could find yourself playing Simon Says, with your wall, if you wanted too. (does sound quite cool actually)
Here are some of the other Nanoleaf setups we have featured in the past. (yes that is a wall of Nanoleaf, and yes it was expensive)
You can find the starter kit on Amazon here, unfortunately, the pricing of the Nanoleaf is not for the faint of heart, and you'll only really see them in the setups where people want to take their setup to the next level, however when you consider the workmanship involved, it's a fair price.
There are also other brands popping up here and there, like Yescom with their tabletop variant of the Nanoleaf. Or, if you'd rather not spend money on something like this, you can do as btodalee did, and slap some paper on there.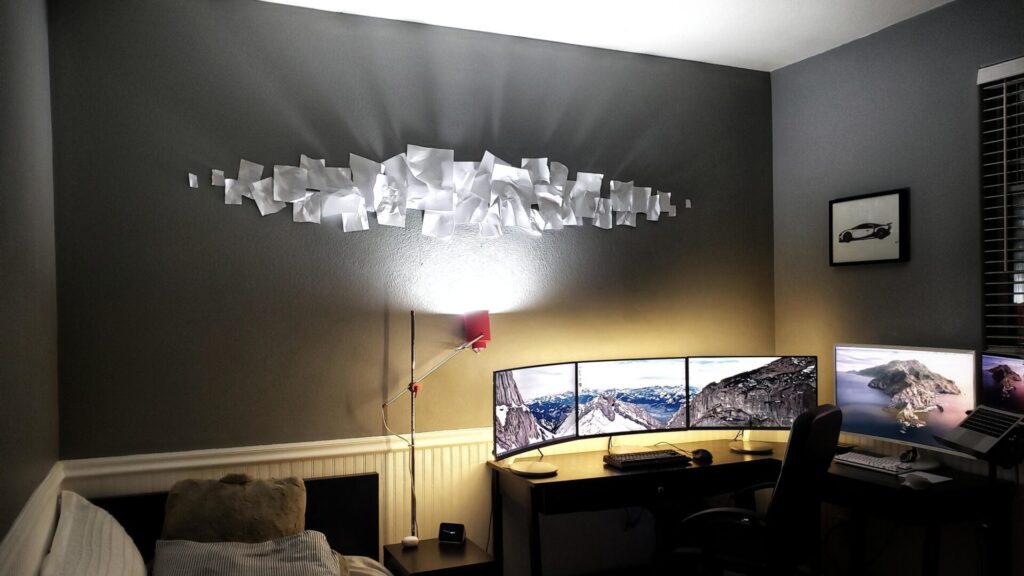 Smart Lighting
One thing to consider here is your existing Smart Device ecosystem, are you already a Hue-House? Well, your best bet is going to be to continue that way, otherwise, you're going to need an extra app for that one bulb! Consider the ecosystem when getting stuck into this, both Hue and LIFX for example, do bulbs of many sizes, and LED strips, though this might not be the case with other brands.
There are, naturally more than just Hue and LIFX to this industry, but these are the two I have had exposure, for what it's worth before I knew about LIFX, I went with Hue, and have been happy with my choice, for the most part, the price can be a bitter pill to swallow sometimes, but the product is robust and reliable.
Philips Hue
I won't teach you how to suck eggs here, everyone knows about Philips Hue, smart lighting has taken our homes by storm recently, we turn on our lights with our voices now. But did you know you can extend this functionality from just the simple light above your head in the centre of the room right throughout your battlestation, across your desk, and even inside your PC!
I think it is worth mentioning that Hue is still leading the way in out-pricing everyone else, but they do come with an assured level of quality too, and the hub functionality is next level when you compare it to the competition.
Sync Tool
The Hue Sync tool can (as you'd expect) sync up your existing Hue lights, with what is occurring on the screen, so for example if you had an RGB strip illuminating behind your desk, and you are playing a game which is flashing through different colours due to in-game action, well your lights become an extension of your screen.
Engulfed in flames? Well, you're going to get a beautiful orange haze around your screen, as your character burns to death.
You can find more information about that here.
LIFX
Arguably the biggest competitor to the Philips Hue series and they do come in cheaper, the main difference is going to be the lack of a hub- which might not seem like much but there are benefits to maintaining all your bulbs through one device, instead of one at a time, but they are a valid option for sure!
Here is an example of one, the LIFX BR30, which would do everything you need it to in this kind of application.
RGB Desk
I have to admit, I did not know that RGB Desks were a thing, but Thermaltake made an RGB desk, which initially does seem crazy, however, I suppose it is only like having a large RGB mouse mat, more on that later though.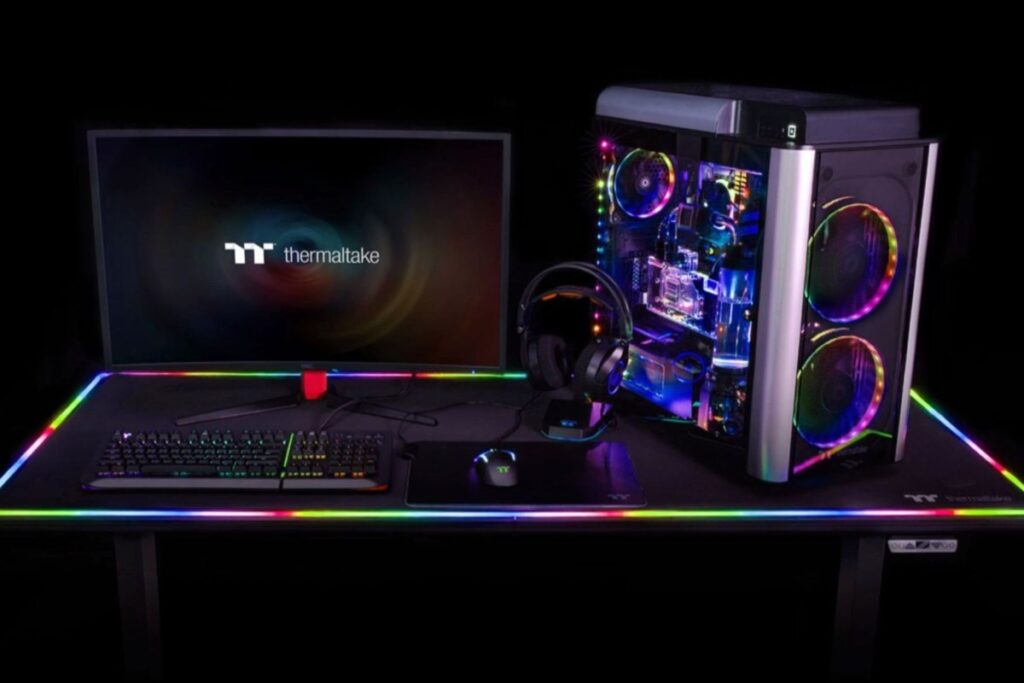 Admittedly, I don't know how 'available' this product is, even the website is pretty sparse with information, but it is an interesting concept if nothing else, and something that I am sure we will see more of in the future- for now though, you're probably better off getting a large RGB mouse mat.
RGB Software
So you've bought yourself some RGB components, well how do you control what's going on with them? Why you download the corresponding RGB software of course- this is a tricky area.
It is not as if you can choose your RGB software (but that would be pretty cool- I doubt the manufacturers will standardize anytime soon though), so your choice is most likely made for you purely as a result of choosing your hardware- which I think is probably for the best.
The good news is, none of them is awful, and they all achieve their purpose, I'm not saying this is a comprehensive list of all of them either- just the ones I am aware of
Corsair iCUE
I don't know what it is about Corsairs offering, it is very good, and it's probably the most popular one available, but it's very complicated too, though it has a steep learning curve, so you may find yourself hitting your head against your desk for a bit, but after it clicks in your head, you're golden.
MSI Mystic Light
As you would expect, the Mystic Link software allows you to control all of your MSI products, including their lighting, a unique component it does offer, however, is direct compatibility with both Hue and Nanoleaf, so you would be able to get all 3 talking with relative ease!
SteelSeries Engine
I have to commend SteelSeries on their offering, it's clear that effort has been placed into making the software fast and easy to use. It's going to work with all your recent purchases from SteelSeries, and give you different configuration options depending on the device.
NZXT CAM
The CAM app is 'sold' as the last utility app you will ever download, as it is jam-packed with features over and above simple RGB control. It used to get a bad reputation for not being the most stable, but I believe those issues have since been ironed out.
All in all this application is unique in that it's hardware agnostic- it will report on a lot of your system information even if it isn't NZXT, so that might be useful to you, as you won't need to load an additional system monitor on.
Razer CHROMA STUDIO
Razer Chroma Studio, as with the rest of this software, gathers all of your Chroma pieces and lets you adjust the lighting and functionality within them. One of its great features is allowing you to represent your hardware virtually on the screen, for easier management and profile tweaking.
RGB Peripherals
Mouse mat
There is something very alluring about the RGB mouse mat, for example, take the SteelSeries mat from their Neon Rider collection, you can find more info here. Thanks to relodebell for this picture of his, look how great the Neon Rider looks! There is also a plain version available here, but who wants that when Neon Rider is available?!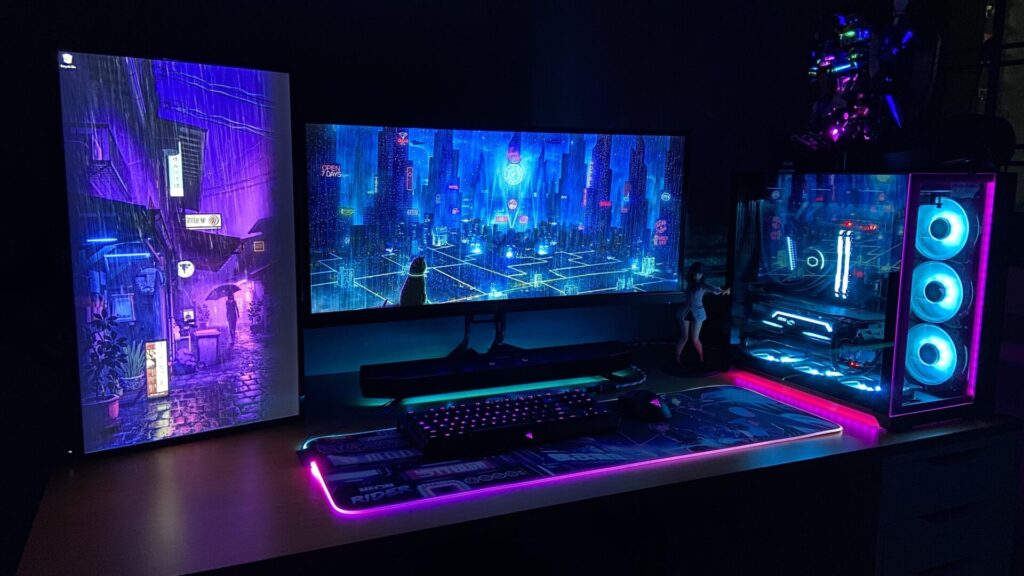 Corsair also has an RGB mouse mat, the MM800, which is not limited edition as the SteelSeries offering is, however, it is a bit more subdued, which may be perfect for illuminating the edges of your battlestation!
ASUS' offering comes from their ROG line, and it too is a great looking mat, you can see that here on Overclockers, or Amazon, featuring 15 zone RGB and even a pass-through port, so a pretty good choice!
Headphone Stands
Corsair has a relevant product here, the ST100, it's a weighted & nifty little headphone stand, with an RGB base, and this is another one of those things where if a couple of years ago you said, "RGB headset stand", then I would have definitely laughed at you, but here we are, and I must admit, it is just another area where you can place a subtle glow, and it really can amplify the corner of a desk for example.
Here is 10onthespectrum's ST100 on his desk, you can see the subtle glow, but also how it works well with the other blue accents going on behind the monitors!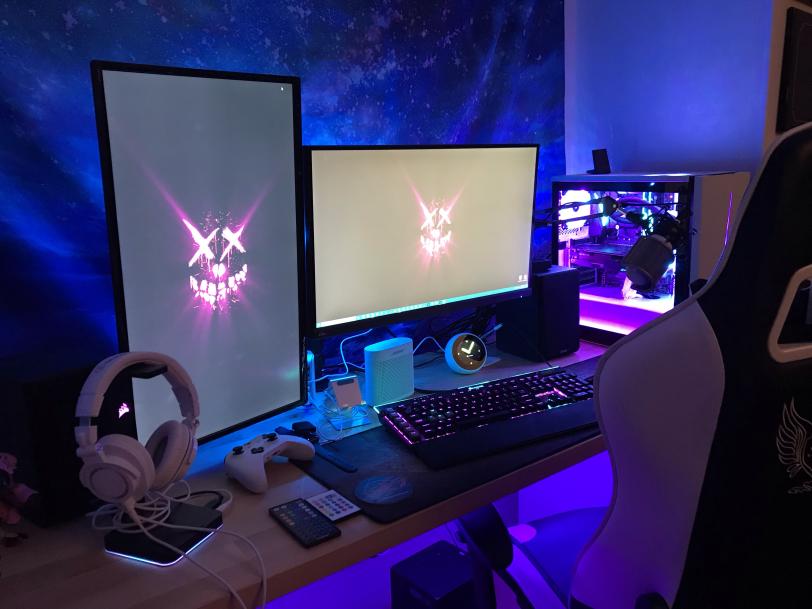 Speakers
The Razer Nommos is an RGB speaker, I am not going to focus on the speaker aspect, but more so, the RGB! Now these function much in the same way as Corsairs stand, you get a small ribbon of RGB that runs around the base of the unit and can be controlled with the Razor software covered earlier.
Check out this setup by Josh & Becky, with a great dual battlestation, featuring not one, but two sets of the aforementioned Nommos! You can see the subtle yet effective light bleeding from the base of the speakers.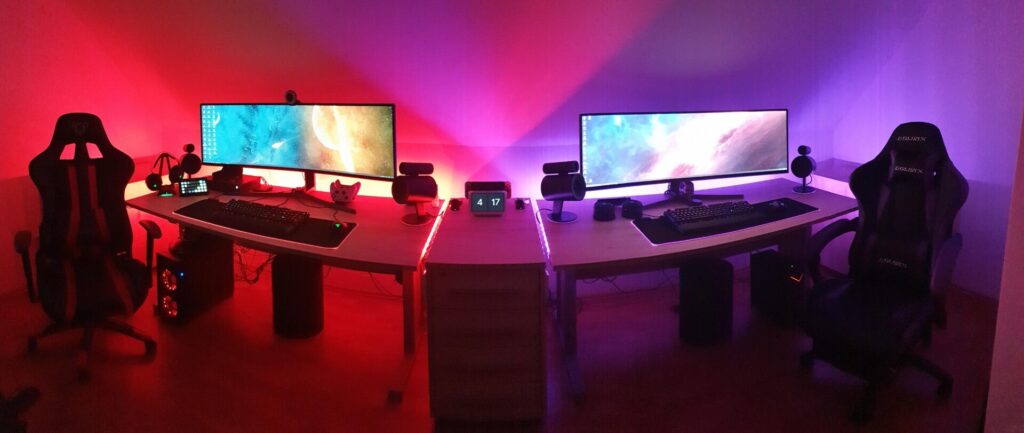 You can view more about the Nommos, such as current pricing, on Amazon.
Coordinate
It can be tempting to go full rainbow, and turn your battlestation into a nightmare disco (that sounds pretty cool) but trust me, you are better off finding a nice palette and working with that, like greengorilla60 here, has opted for an Outrun style colour scheme, and it looks amazing!
Tell me you don't want to sit here all night and watch Drive (I won't believe you) There are RGB Strips involved here, likely a Hue light, and matching wallpapers, that all come together to create a beautiful, but highly coordinated result, and it looks that much better for it.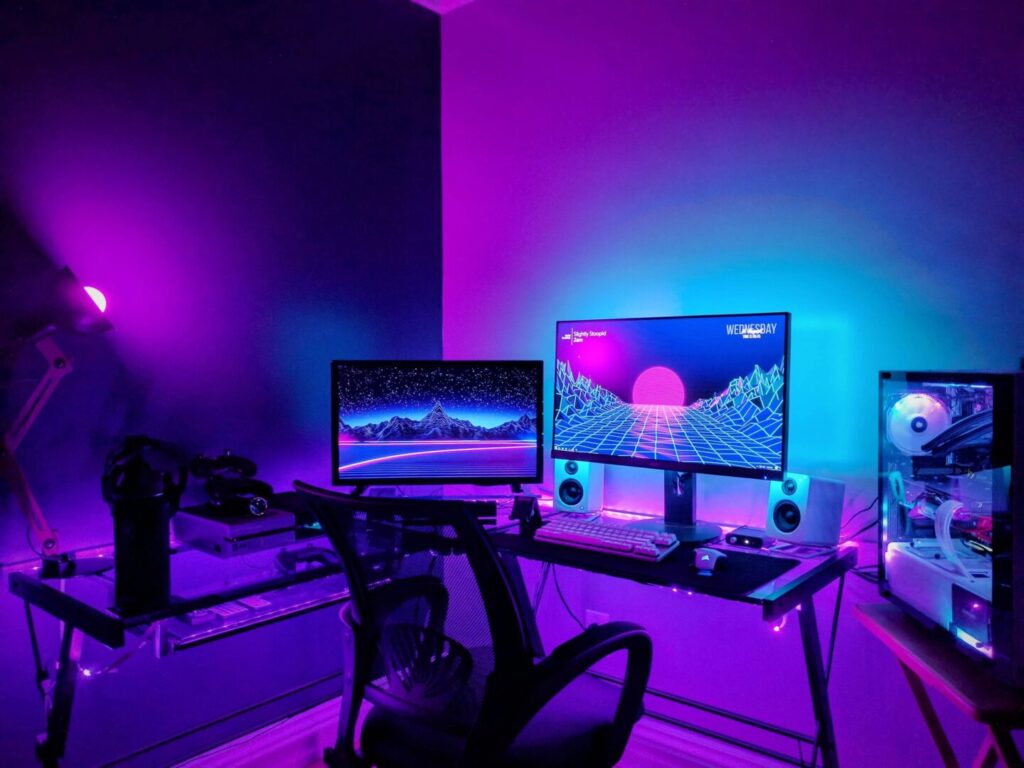 PS, you can get those wallpapers here.
Colour Scheme
There is a tonne of theory behind the idea of colour matching, I'm not going to go into masses of detail on it, as it's mostly not relevant, but I want to quickly touch on how you can apply this logic to your battlestation, simply put it's all about the way you choose your colours.
You can go with accent colours, this might be you picking a general base theme, and then picking one or 2 colours that pop when compared to your base setup, and therefore accent the original colours!
Check out this example by mrjosi94, a smart IKEA base desk, incredible build (that I would love to go into more detail on) and then splashes of orange and purple throughout, beautifully accenting the primary colour of the room, and there is no denying it looks great!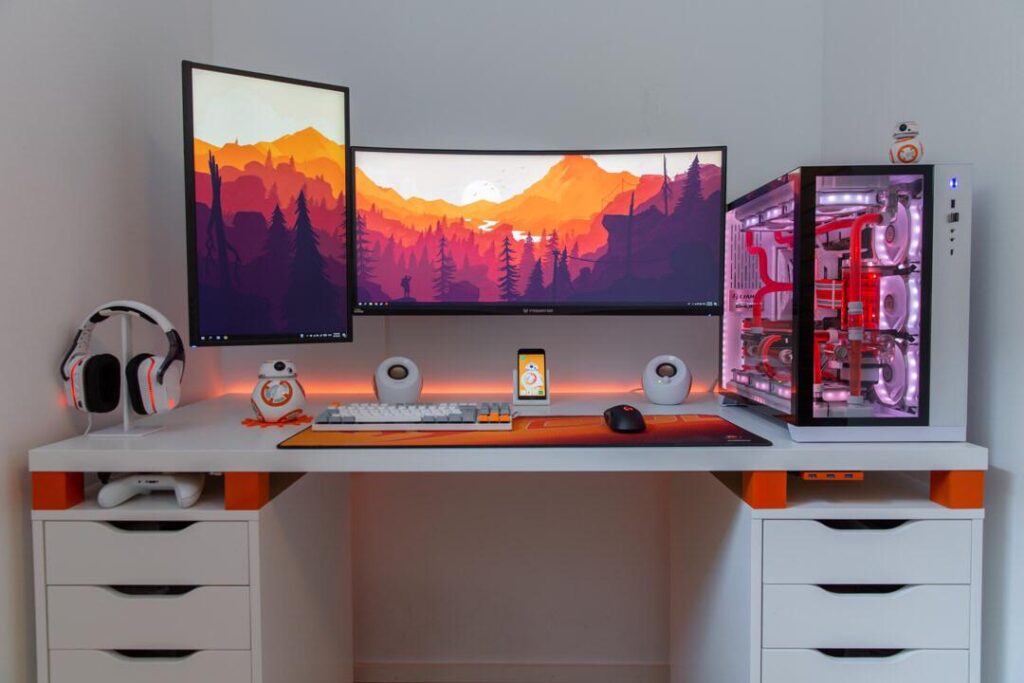 Or something like this by ItsMehRuby, with a white theme, all contrasting against that beautiful wood grain, very clean!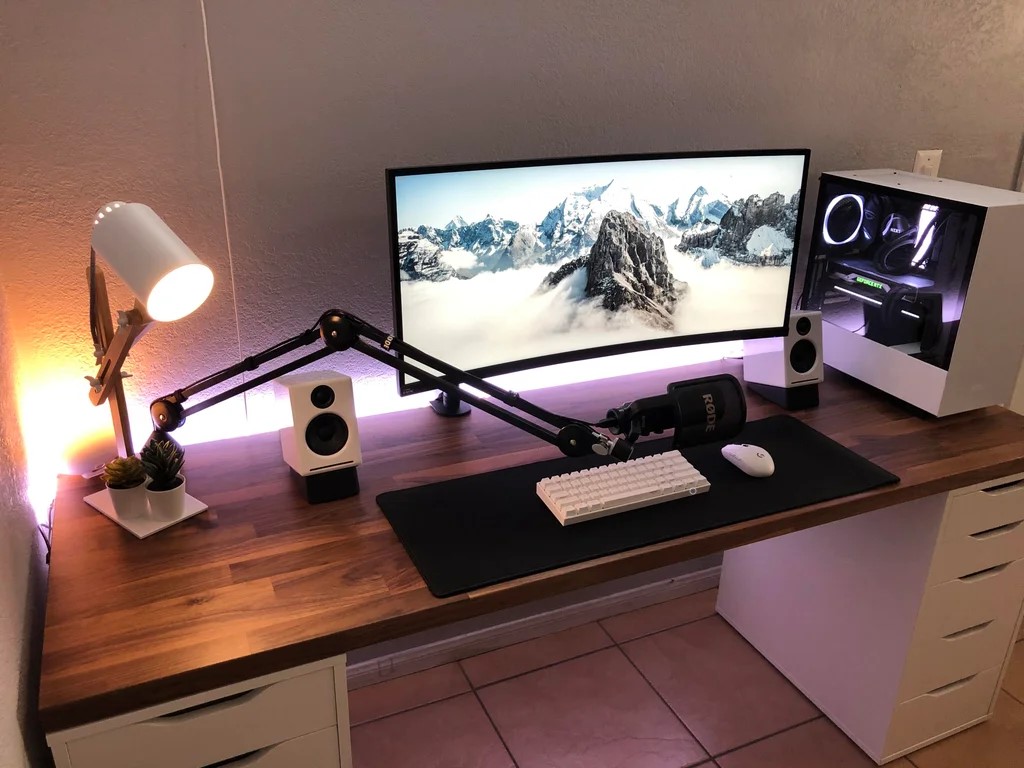 Hopefully, you understand the point I have been driving home here, but in case you aren't here is another example, thank you to GiantRubberRing for this setup, primarily made of black equipment, with an all-white desk, then- again as before, the blue LEDs and a coordinated wallpaper to tie it together, and it works!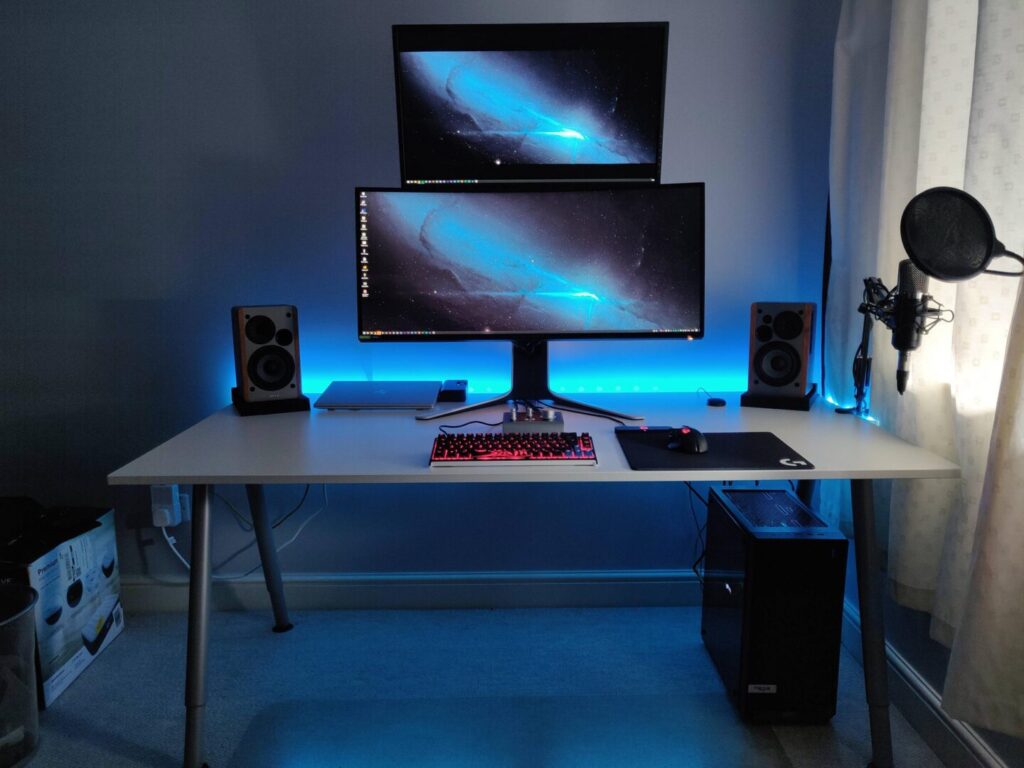 Here we have another perfect example of using an accent colour, we have a lot of wood as the main detail, then some greys and whites filling in the rest, with the desk drawers and that great slate wall, but then thrown in via the led strips, and a coordinated wallpaper is a beautiful splash of blue, thank you to ViruzPro for this setup, really like the racing corner too!
Or if you're looking for a simpler route, go Monochromatic this is essentially just picking one colour, and using that, or using that and colours that are similar to it, like the outrun style one above, or this setup by obey_sheci who is even incorporating acoustic panels into his colour scheme, killer!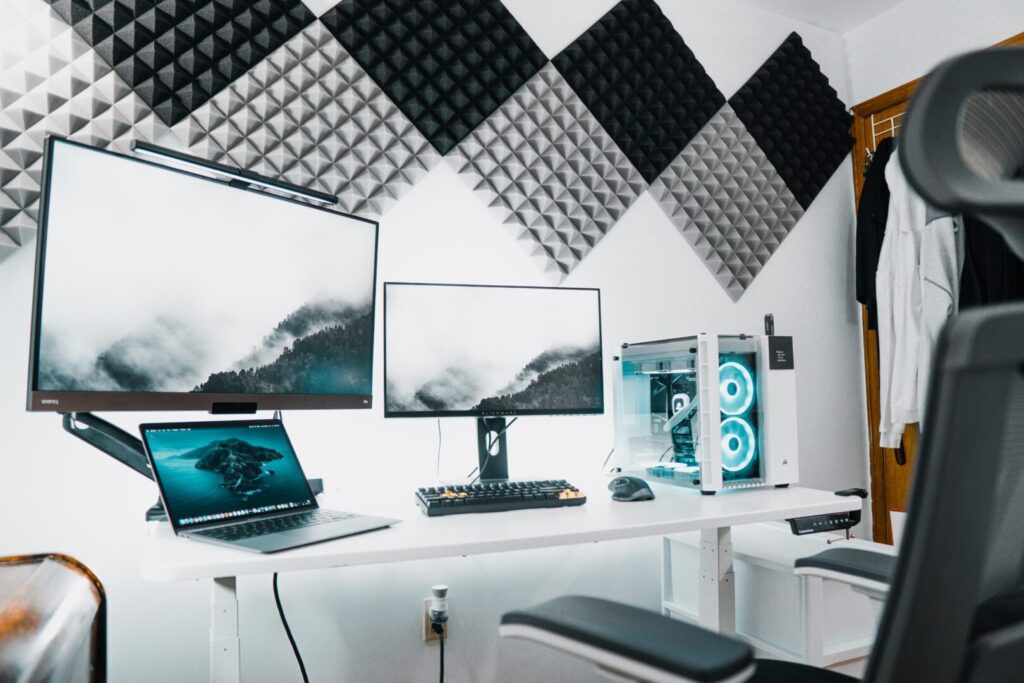 Another great example of taking 1 or 2 colours and running with it is mrstonecold's 'midlife crisis' build, employing heavy use of pink/orange, and it looks amazing, this is another room I would end up in all day if I wasn't careful.
Another option is taking inspiration from warm/cool colours, this can be as simple as incorporating a warming orange throughout, or a light blue, the benefit of this as a scheme is that it's safe and you're going to create an actual feeling about your battlestation.
Below we have TheAvalanched's battlestation, this is a curious mix of warm and cool colours, and looks great with the white Nanoleaf/mousepad working as highlights to the colour choices.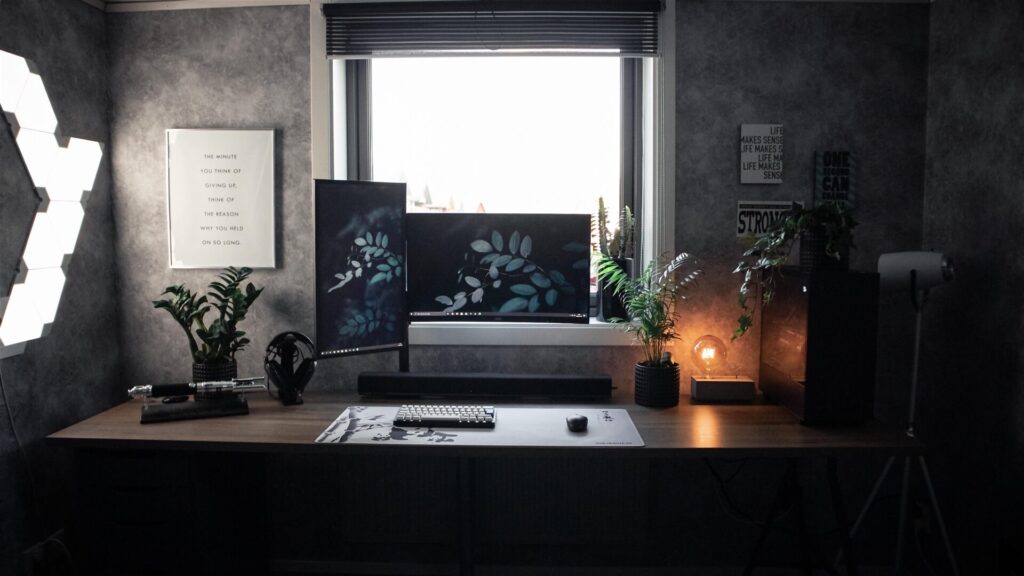 Wallpaper
This one is pretty simple, get that coordination going, if your lights are all pumping out white, then go for a light wallpaper, or something that contrasts well, this will allow you to tie in your monitor to the room, which is arguably the focal point of your whole battlestation!
Here we can see Signynt has used a custom made wallpaper, to coordinate with the subtle yellow/pink accenting he has going on. PS, here is that wallpaper!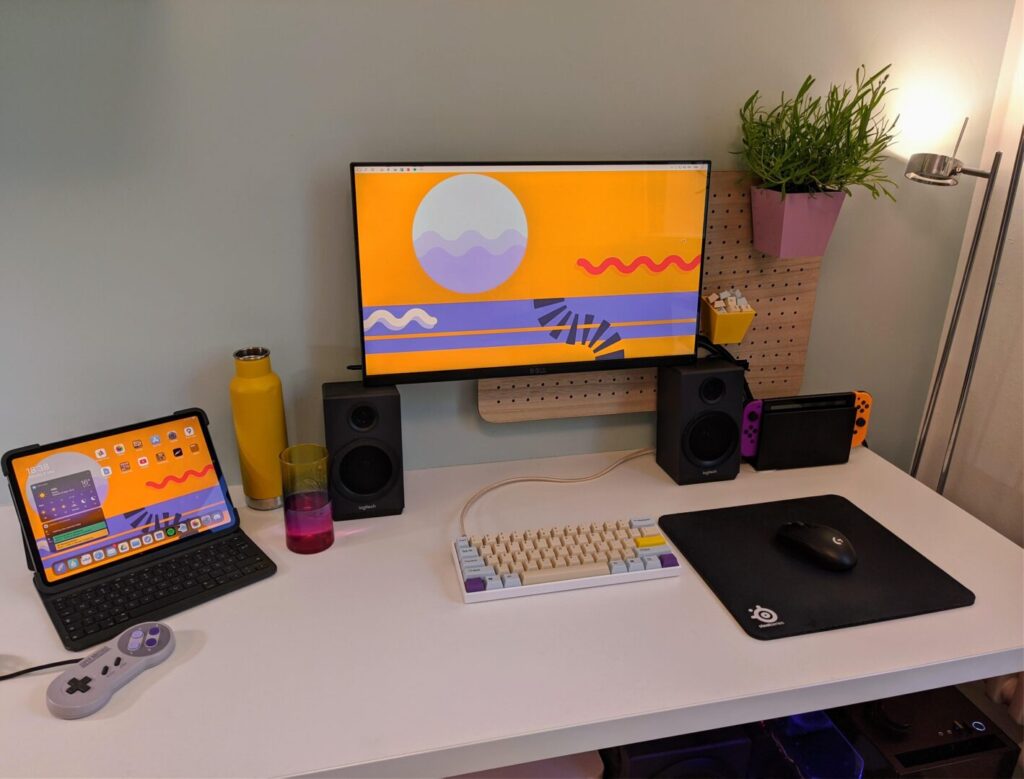 Below you can see a couple more setups achieving a similar effect by choosing their wallpaper concerning the rest of the build! Thanks again Baecitylights, greengorilla60, and mrjosi94 for these images.
Too much of a good thing
There is a limit to all this, I think. There is likely a reason we say "everything in moderation" and I think that it applies here, don't go overboard with it, these days it's so easy to get caught in the RGB hype, a few years ago if I said "RGB mouse mat" you'd of laughed in my face.
But now? Well, it's becoming commonplace, but if every one of your components is RGB it can become a little… tacky, it's actually rare and almost shocking now when you see a nice gaming setup that doesn't have any RGB- it's refreshing.
Like these setups below, you'll notice either no RGB, or a subtle hint of it, and they are still amazing setups, so no, a tonne of RGB is not essential, you don't have to own a Nanoleaf to call your setup a battlestation. (even if they are pretty)
A big thank you to sneakysmokey56 and chequesformike for these pictures of their setups!
Both clearly big fans of the IKEA build we all love, if you want to find out more about the IKEA build, I have a post on it:
Your Precious Vision
I know I know, I'm not going to tell you that if you keep staring at that screen you'll get square eyes, but- let's be safe. I'm not qualified to tell you about the ins and outs of your eyeballs, but there are a few things you can do, regarding your lighting, to ensure your eyes are going to be comfortable while you're sitting at your battlestation for an extended period.
Unfortunately, natural light is the best cure, however, that doesn't fit where we are going with all this, the key, however, is to avoid sharp differences in contrast, so by placing a gentle hum of light behind your screen and throughout the room, you can be helping your eyes, providing you take regular breaks of course.
Conclusion
So there we have it, a handful of ways you can illuminate your battlestation. I think the key takeaway here is to just be smart with it, don't go overboard, have a plan, and give your eyes a break now and then. Thank you for reading.
I hope you found something useful here, if you did, please share the article or the website with a friend, it helps support the site, and then I can continue to produce content for it.
I just found The Ultimate guide to #battlestation lighting on https://rigz.io
Have I forgotten something?
Do you have a top lighting tip you think would go well here? Please let me know by emailing me at hello@rigz.io or getting in touch on twitter here. Thank you!