What would the ultimate Alienware gaming setup consist of? Just how far can you go with Alienware alone? Is Alienware worth it?
These are all questions I aim to answer in this article, and more hopefully!
About Alienware
Now Alienware have been in the game a long time, over 20 years, in fact, specifically, they were founded in 1996, this isn't going to be a history lesson, but I just wanted to highlight the cool bits for you, Dell acquired them in 2006 but had supposedly been thinking about it since 2002, in other words, Dell were keen.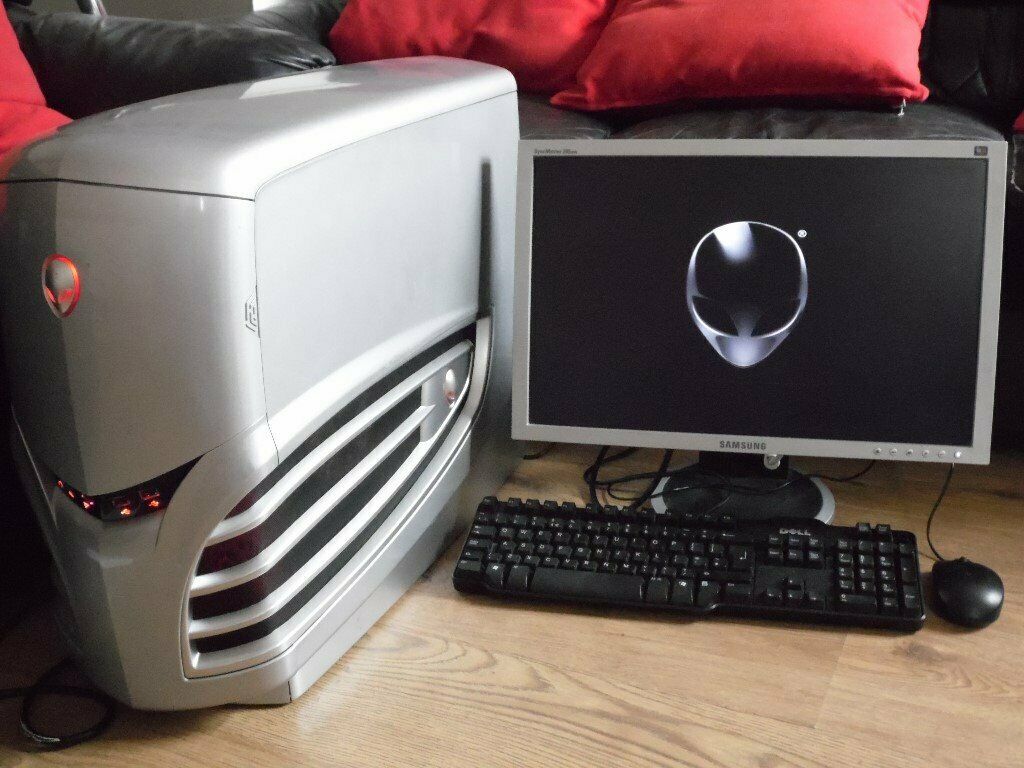 When I think of Alienware however, my brain does dart back a while, to a time much different to today, where, to be fair, a lot of things in the PC world, looked quite odd.
Alienware RGB
Lets take a look at ridindrrtay's Alienware setup here, the synchronized RGB standing right at the forefront, featuring a good few of the desirable Alienware components, check out the image below, see if you can spot them all. (see, were interactive here)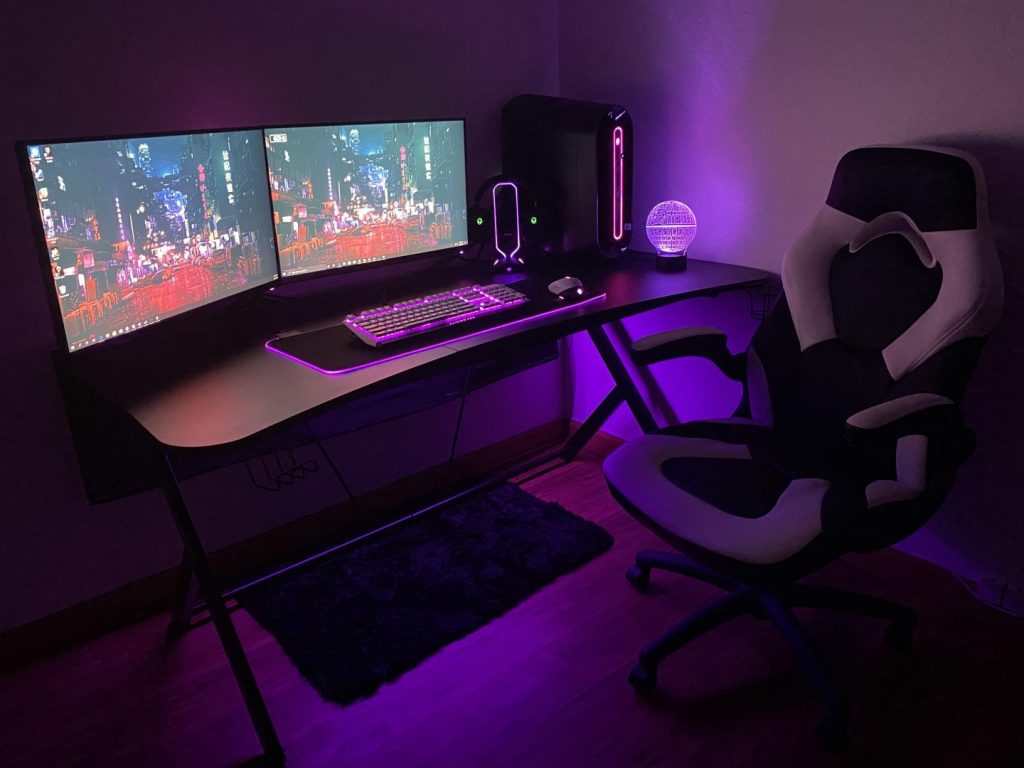 The obvious starting point here is the tower, sitting subtly in the corner, well its an Alienware Aurora R11 Gaming Desktop, this one is kitted out with an Intel i7-10700KF, for gaming, an NVIDIA GeForce RTX 2080 Super 8GB GDDR6, this PC is naturally running windows, from a 512GB SSD + 1TB SATA HDD, all chugging along with 16GB DDR4 RAM.
For your ocular pleasure, our fine specimen has chosen to use 2x Alienware 27inch Gaming Monitor's, I believe they are the AW2720HF, consisting of FHD IPS LED Edgelight Full HD 1920 X 1080 resolution and an eye-blistering 240Hz refresh rate.
If that isn't enough for you, there now exists the Alienware AW3420DW Curved, which comes in at a whopping 34 inches, with a WQHD 3440 X 1440 resolution, however, you'd have to go down to 120Hz (what a shame). Still, I bet its a great display.
As you can imagine, the Alienware fanfare continues into the keyboard and mouse department, with an Alienware Low-Profile RGB Gaming Keyboard, specifically, the AW510K, which does include Cherry MX keys, so you know you're getting that good stuff.
Paired then, with an Alienware Gaming Mouse 610M-Light which looks a great mouse with 16K DPI, so definitely keeping up with all the other market leaders in that department.
It wouldn't be a complete setup without a headset, and it wouldn't be an Alienware setup if it wasn't using the Alienware AW988, which is a 7.1 Surround Sound capable unit, with RGB, and the AlienFX Noise-Cancelling microphone!
Which means, we have almost got a winner of Alienware bingo, a setup including an Alienware monitor, keyboard, mouse, headset, and tower! But the chair is missing, so no trophy I am afraid to say.
Note: Alienware Bingo, is not yet a real thing. 😞
Alienware SLI
Just when you thought it couldn't get any cooler, we bring SLI into the equation, thanks to monahan9 for allowing us to use these pictures of his setup.
This machine comprises of an Intel i9-10900kf (w/ Alienware liquid cooling) 3.7-5.3GHz, currently running @ 4.9GHz, 64 GB HyperX 3200mhz RAM, 2TB M.2 PCIe NVMe SSD & a 2TB 7200RPM SATA 6GB/s HDD, and here is the kicker: 2x NVIDIA 2080 Super (SLI). The setup also includes the S5000 Gaming Chair by, you guessed it, Alienware.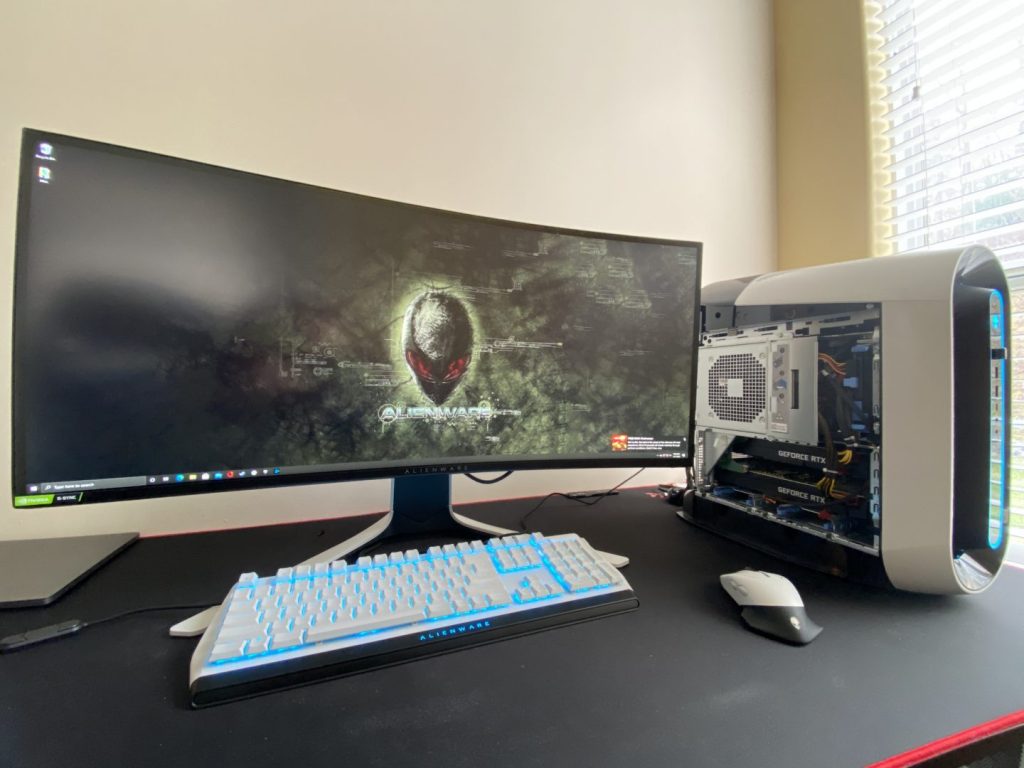 I asked monahan9 what they're favorite component to the setup is, I think mine would be the tower!
This has got to be the aw3420dw monitor. After gaming on my Alienware pc with a 1440p monitor, going back to gaming on PS4 Pro on a 4K TV feels like going from PS5 to Sega Dreamcast (which was my all time favorite console, mind you).

The colors are so crisp, the movement is smooth, not to mention getting 120 FPS on Destiny, it feels like a true 'next gen' upgrade.

Monahan9's favorite piece
We can definitely appreciate that, and it helps that the Alienware monitor looks awesome straight out of the box, and really matches the entire aesthetic of the brand.
I asked the same question, "why Alienware?" and they had the below to say, which is actually again similar to everyone else- it seems Alienware is the brand that people discover
Alienware is the first gaming PC brand that I became familiar with. Buying one has been a goal of mine for as long as I can remember, but a combination of not having the money or space for a PC prevented it.

monahan9 on "why Alienware?"
Of course, the battlestation way, there is always more to come!
I have a 2019 MBP that may be swapped out for an Area-51M R2 at some point. But other than that I'm extremely happy with my setup.

It's truly never ending.
But the main thing is, I think we have achieved Alienware bingo! Chair, Keyboard, Mouse, Tower, and monitor! If the desired upgrade for the Macbook is achieved, then that is bingo++ as far as I am concerned!
Halloween Themed Alienware Setup
Next we take a look at this Halloween themed setup, by Danny T, making terrific use of a projector to add some drama to the room!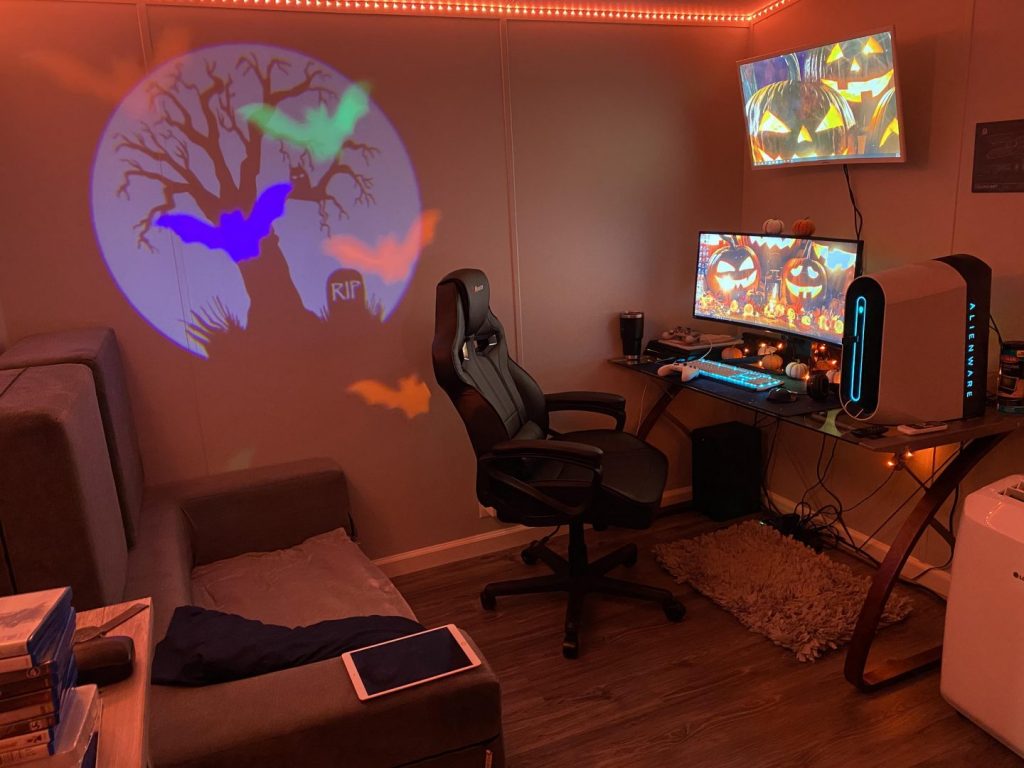 It's an Alienware Aurora R10, featuring an AMD Radeon 5700xt, AMD Ryzen 3900 which is being liquid-cooled, 16GB 2993 ddr4 HyperX dual-channel memory, a 250GB boot SSD and a 2TB HDD for the games, and an Alienware aw3418dw as the primary monitor!
Those cables I can see though, we need to fix those Danny! Why not check out this article on cable management here on Rigz.
I asked Danny T what drew them to Alienware in the first place.
I chose Alienware because I wanted to get into pc gaming but didn't have the time or the nerves to build my first pc just yet. I also really liked the styling and unique looks Alienware offered

Danny T on "So why Alienware?"
This for me is the biggest benefit to a pre-built! That peace of mind that you don't have to worry about it, but over time you may think "Oh ill upgrade my storage" and your pre-built can help you understand how all of those components go together.
Here's a couple shots of Danny's setup, when it isn't Halloween
I asked what their favorite piece of Alienware they own is, and what they aspire to own next by them!
My favorite piece of Alienware is definitely the monitor it is amazing for ultra-wide 3440×1440 gaming! The keyboard is a very close second. And finally, if I were to get another piece of Alienware equipment it'd be the new monitors they have, but with a discount because again they are definitely a little overpriced!

Danny T on their favorite component
On the subject of pricing, which I will cover down below, as there is a bit more to be said on Alienware pricing, but Danny T had this to say:
I paid roughly $1650 for it back in June and it's prebuilt so it's probably a little more pricey than the sum of its parts but not by much when I went on part picker before I purchased back then.

Danny T on purchasing their pride and joy
Triple Alienware Monitors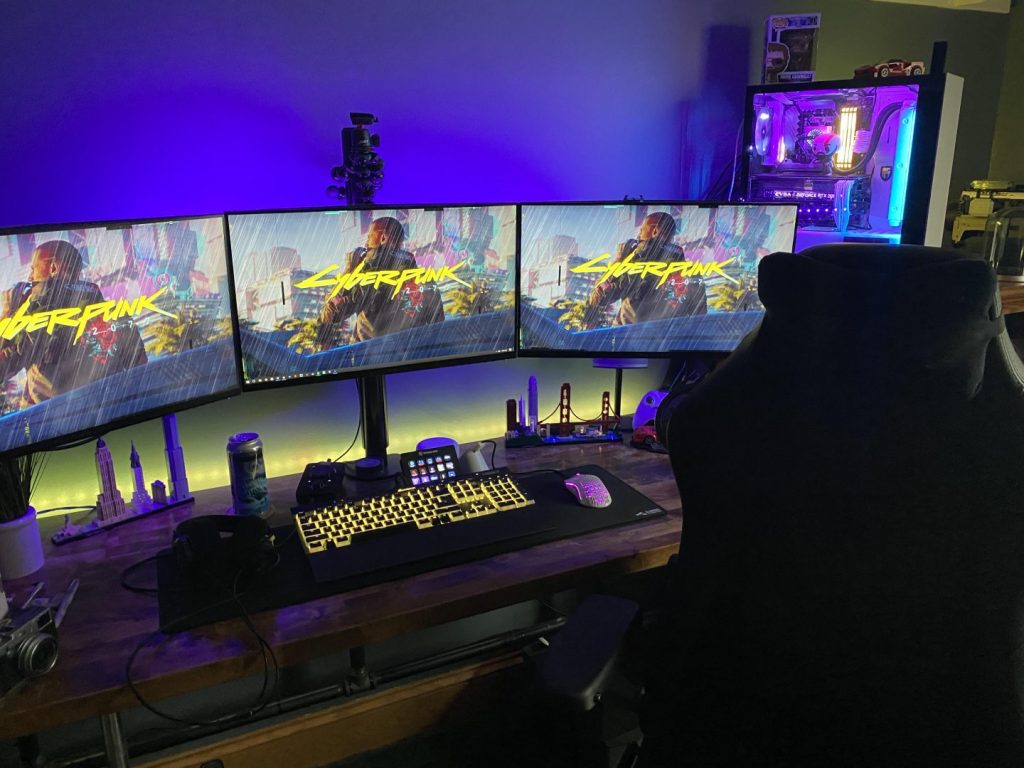 Here we have Triple AW2518HF monitors, all mounted on a single desk mounted stand, which really helps to clean up a desk, you never think your monitor stands are taking up much room until you don't have them anymore, trust me! Thanks for letting us feature your monitors, WeeklyCheesecake6!
If you still don't believe me, check out this wall mounted battlestation post here on Rigz, and you'll start to get an idea of how clean life is, without monitor stands.
The rig in question here isn't in fact an Alienware unit, however it is still pretty epic, consisting of EVGA 2080ti XC Ultra, 32gb RAM, and a monstrous Ryzen 9 3900X!
Wall Mounted Battlestation Inspiration
Are you looking for wall mounted battlestation ideas? Ive rounded up my favorites over the last couple months, and will be running through them below, with some key details.
Are Alienware gaming PCs good for gaming?
Fundamentally, this is an easy question to answer, with that being yes- you can spec them out to the high heavens, and get them on par with that custom build you were going to do for example, so if we don't bring value into the equation, this isn't too difficult a question after-all, you get a bunch of high-end components and a capable GPU, you're going to have a great time gaming on your Alienware PC, and there is no doubt, the cases look great!
Alienware Laptop Setup
They're not all towers, because the Alienware laptops are so bold & powerful, they too can take center stage when it comes to your battlestation.
Alienware M17 R3
If laptops are your thing, have you seen the Alienware M17 R3, this one linked has a 300hz screen! Check out this sweet Alienware laptop setup, which was all setup because the need arose for a gaming laptop in order to be present with his family while they are doing something else, which is great!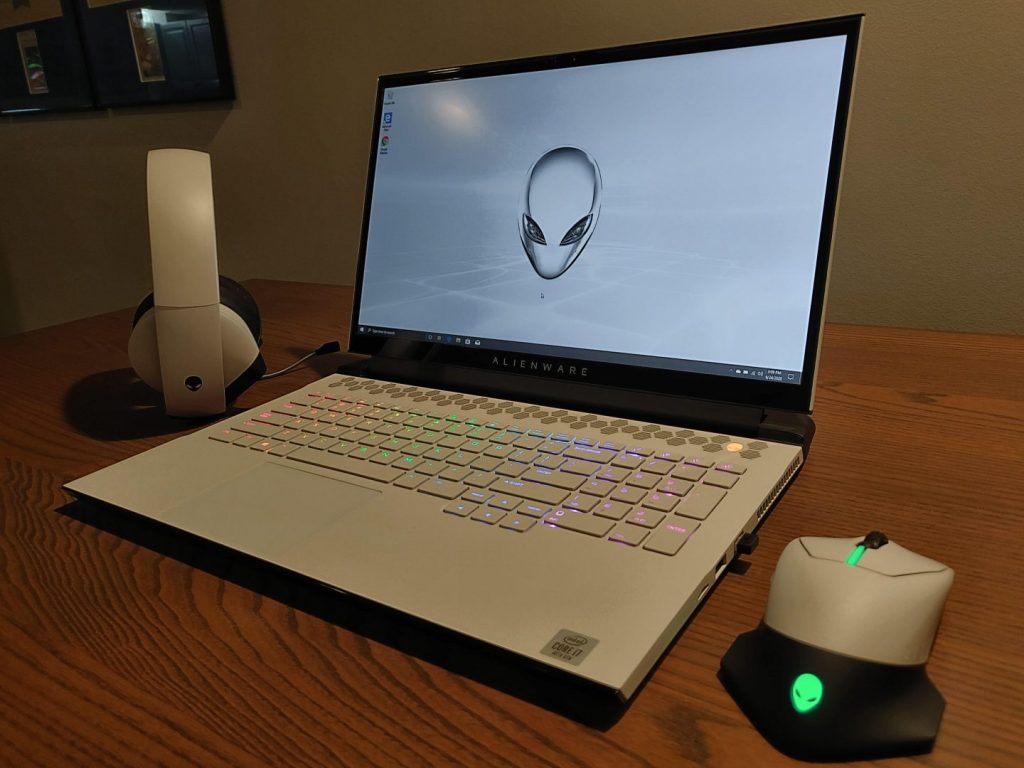 This one is an Alienware m17 R3 i7-10750H, with 32GB DDR4 2666MHz memory, an NVIDIA(R) GeForce(R) RTX 2070 SUPER 8GB GDDR6, the screen on this one is a 17.3″ FHD (1920 x 1080) 144Hz display, with 1TB (2x 512 PCIe M.2 SSD) running in RAID0, and to top it all off, oktoberrust11 opted for the Alienware AlienFX RGB keyboard, which looks great!
Actually this was my first Alienware purchase. I considered a couple of other brands, but Alienware is a product I've always longed after, and I'm now in a position where I can get one. And there is still a "coolness" factor with their products.

oktoberrust11 telling us a little bit about why they chose Alienware
I feel the same way described here, growing up Alienware was always just out of reach and became an almost unattainable piece of treasure, with their obnoxious Lamborghini styling and lighting.
I asked oktoberrust11 what they're favorite piece of the setup was, and without surprise, they had this to say
Well gotta be my laptop, m17 r3. It can handle anything I throw at it.

oktoberrust11's favourite part of his Alienware setup
In hindsight, what else would it be! The M17 is definitely a beast, and really looks the part.
Area 51M CPU Upgrade
Lets take a look at another absolutely smashing Alienware laptop setup, now, we have a setup from Luis G, who had a similar sentiment when I asked "why Alienware", and it really does seem like a recurring theme that we see these when we are young, and we yearn for them until we can get them!
To be honest just like the technology when they started in the late 90's however at that point as a teenager I wasn't capable to afford it, now.. I finally can…… and since I needed a mobile/desktop replacement, Alienware was one of the brands with the specs that I needed, and that teenager inside me can be happy as well.

Luis G on Why Alienware?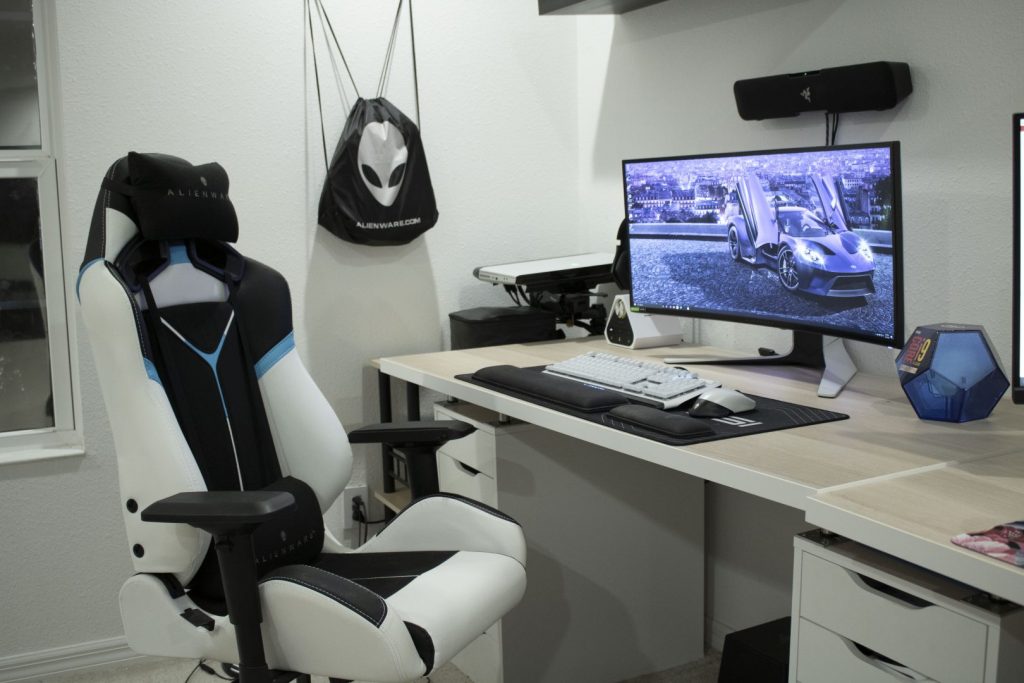 We all have a favourite piece of equipment, and it seems the Alienware AW34 monitor is definitely a piece worth looking into!
That's a difficult question, probably it would be my Area 51m R1, but on a close call, I love the monitor (34 inch-ultrawide) and also the chair (and that's coming from a DX Razer one), but I had massive fun changing the original CPU of my Area 51m which was the i7-8700 to a unsupported by Alienware/Dell i9-9900KS running at 5.1 GHZ on normal load

Luis G on his favourite item.
Changing the internals on a laptop can be a tricky task, with lots of internals being developed specifically for that one machine, however Luis G has even undergone a CPU upgrade on his Area 51M Laptop, from a i7-8700 to a monstrous i9-9900KS!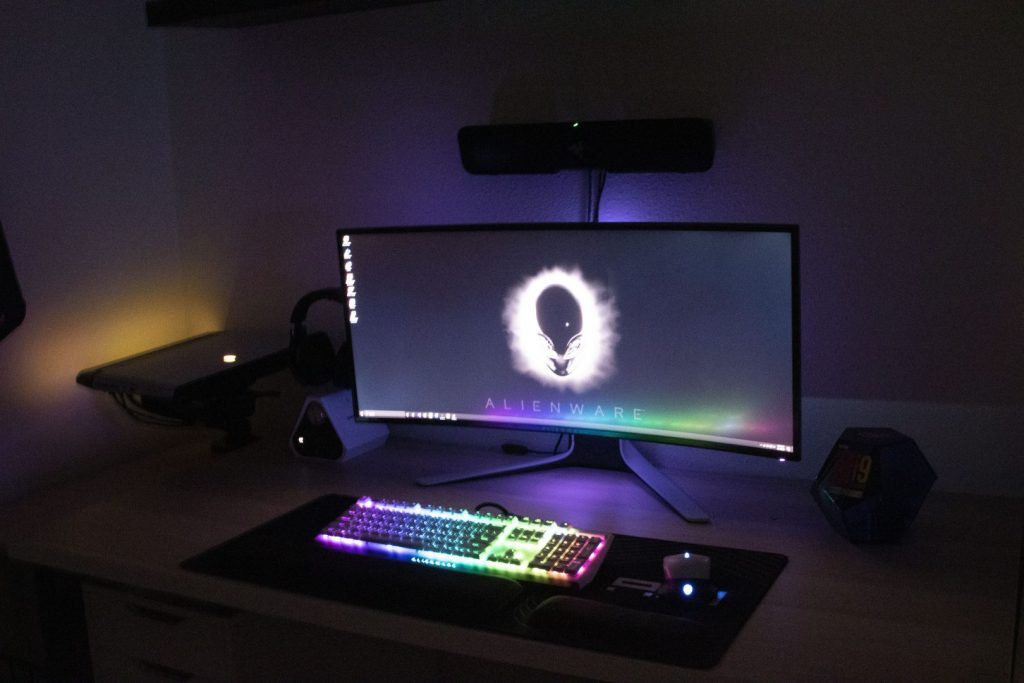 In traditional Rigz fashion, I asked what was next, for this epic Alienware laptop setup.
I am interesting in getting the Alienware chair full RGB which is an add on to the chair and doesn't come included in the package, and maybe a travel bag for it, since I am using one that is already 8 years old. On regards non-Alienware parts that I am looking for, if I have luck finding a 3080 RTX Founders Edition, I am hunting for one, as well some components to max out the RAM and more storage

Whats next for Luis G
Is Alienware worth the money?
This really depends on your own personal situation, if your looking for a killer setup and you know how to pick the right parts for your needs using the Alienware builder on the website, and you value the support & warranty you're going to get conveniently all from one place, then sure, the 10-30% 'pre-built-tax' may be worth it to you! Definitely don't count them out.
Danny T summed it up nicely when I asked for their thoughts on Alienware pricing.
I definitely agree Alienware is overpriced but they always have discounts available so as long as you're able to find them the price is more competitive. Especially since you get everything built and shipped ready to unpack and go. There's a convenience and comfort that I should receive it perfectly built and not have to worry about it having any mishaps.

Danny T on Alienware pricing
oktoberrust11, who's laptop is featured on this post, finds Alienware pricing quite reasonable when you really get down to the details, which is encouraging to hear!
From my research, when you really compare spec for spec and match up to what you're getting, pricing is pretty comparable to other brands.

oktoberrust11 on Alienware pricing
I think its safe to say across the board, that opinions are fairly similar, monahan9 had this to say on the pricing
Yes and no. In truth, it depends. Mainly on the experience someone is looking for when purchasing, as well as how the pricing is being compared.

Take cars for example, there are millions of people who love working on their own vehicles. Tuning, building the engine, installing a more aggressive suspension or a turbo gives many people a sense of pride and accomplishment for doing it on their own. A sense of pride not reached if bought, rather than built.

I wholeheartedly agree with this method of thinking, but personally it came down to longevity, having a warranty, and being able to send it back to Dell for upgrades.

When compared to building your own, Alienware is definitely more expensive. However when compared to other boutique gaming pc builders, Alienware is closer to the mid-bottom of the pack. Falcon Northwest, Digital Storm, and Origin all make excellent PC's, but are all more expensive than Alienware.

Monahan9 on Alienware Pricing
Generally, I think everyone can agree that the pricing is largely offset by the convenience and security aspect, how much do you value your own time building the machine and diagnosing issues (if ever they come)?
Or would you prefer to just fallback on the manufacturer here- sure you can do that with each individual component on a custom build, but then your managing 5-10 different warranties, so again, it comes to your preference in the end.
Lets take a look at another take on Alienware Pricing, this time from Luis G, who believes its very important to draw a fair comparison, when you make one.
To be completely fair, it does depend on what you compare it too, most of us, compare directly their laptops to a custom desktop PC, and to be fair, at that point it could be more expensive, however we are not comparing apples to apples, if you compare to the other brands like Razer, ROG and even Falcon Northwest, the price it's about the same, and Dell most of the time offers discounts and coupons as well their outlet store, on the Alienware desktops vs a custom built PC, definitely I would built my own

Luis G on Alienware Pricing
Awesome stuff!
Is Alienware only for gaming?
Though they are marketed as absolute gaming machines, this works in your advantage when it comes to just about any other daily-life task! By including high-quality components such as lots of memory, a good GPU & CPU, you can rest assured that everything that is 'less than' gaming, such as browsing the web, or doing homework, is going to be easy work for your Alienware machine!
So in short, no absolutely not, your new Alienware machine can do much more than play games, but it is going to do that pretty well too!
Conclusion
So there you have it, a few looks into the world of Alienware, and some of its offerings, its clear that Alienware users are a proud and passionate bunch, more than suitably placed within the PCMR- and why wouldn't they be, we have seen above some absolute monster battlestations, which I would be proud to call my own.
Maybe your next component will be an Alienware one- if you think you've got some special Alienware that needs sharing, why not send it over to hello@rigz.io and we may feature it on this post!
As always, it has been a pleasure, why not share the article with a friend if you enjoyed it.
Check out the ultimate Alienware battlestation on rigz.io