IKEA offer a lot of countertops & worktops, but which should you use for your battlestation? Let's run through them all and go over the pros and cons of each of them.
There are two worktops missing from this list, the HAMMARP & RÅSUNDA, one of which was the original star of my Ultimate IKEA Battlestation post, which you can find here if you wanted to read it.
So without further ado, I have 8 of the offerings here, and we'll talk about each one, and then we can conclude where your money is best spent for building your own desk from an IKEA worktop/countertop!
Why use a worktop as a desk?
I know what you are thinking, arent these all kitchen countertops? I want to build a desk, not a kitchen. Well yeah, your right, however the solid wood offerings in this list are very robust, a great size, and very easy to finish, so they do make perfect desks!
You may even save some money if you go this route because you'll have to figure out your own leg situation for the desk, however, I feel that just allows for more options- buying an off the shelf desk you are restricted to whatever that desk comes with, but by getting a worktop, you can put drawers under, you can put legs that match your decor- you can put one side of legs, and one side drawers, the possibilities are infinite!
Well maybe not infinite, but there's a few that is for sure!
KARLBY
The KARLBY is first on our list here, it's a particleboard and veneer combination, which helps save some costs, the veneer being a thicker than average layer, so you know that it's going to hold up to most tasks for years.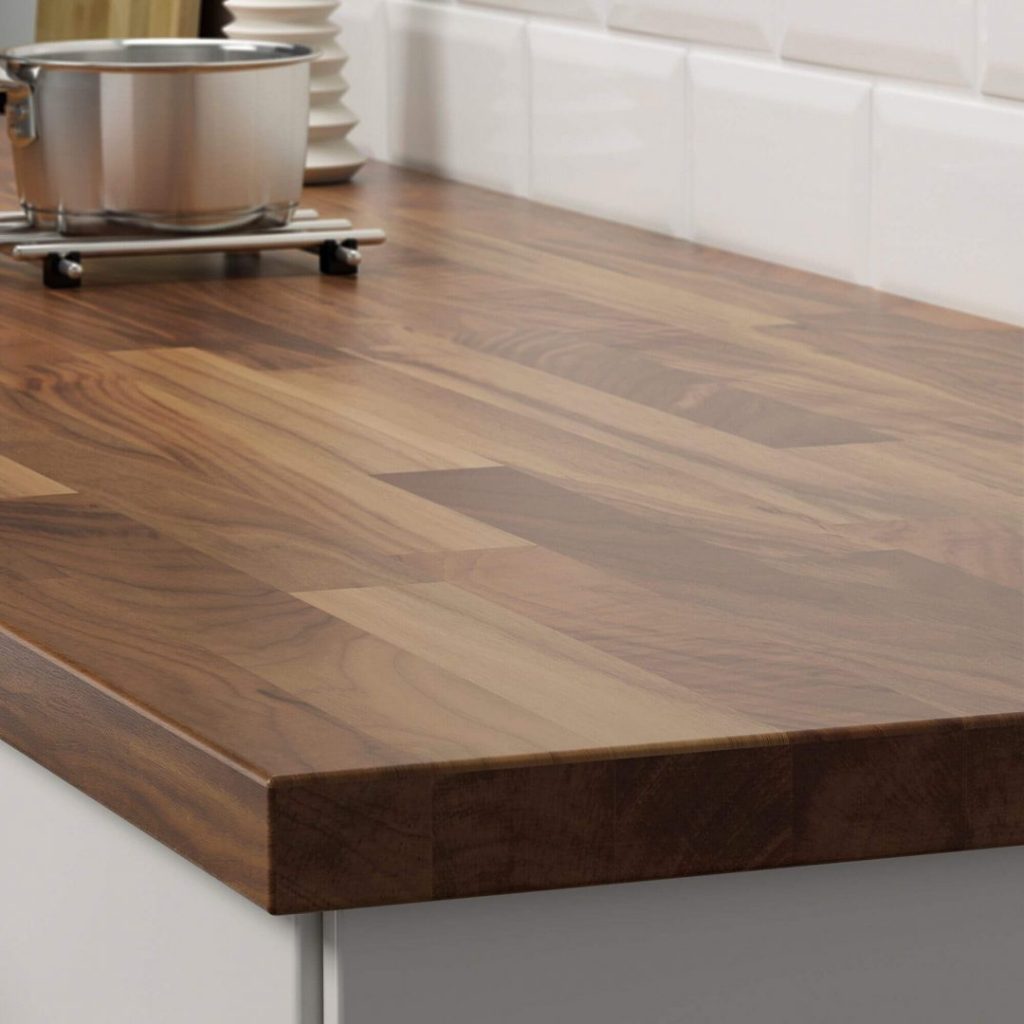 The KARLBY is available at a size of 246×3.8cm or 186×3.8cm so it's going to make a lovely large desk, which you'll easily be able to fit all of your peripherals on. It comes with either an oak veneer, or a walnut one.
Oak
Walnut
Whether you go for oak or walnut, well that is down to preference really, seen as they are both just veneer, you can assume they're probably as capable as one another.
Despite being a veneer, the thickness allows for sanding and refinishing if you so wish too, so you can keep it fresh for years to come when it's looking a bit tired!
LILLTRÄSK
The LILLTRÄSK is a laminate & particleboard combination worktop, so the inner core is made from the same strong particleboard technique IKEA likely uses across their range, but the outer is equipped with a laminate, which means its spill-proof basically- but of course, you shouldn't be eating/drinking at your battlestation.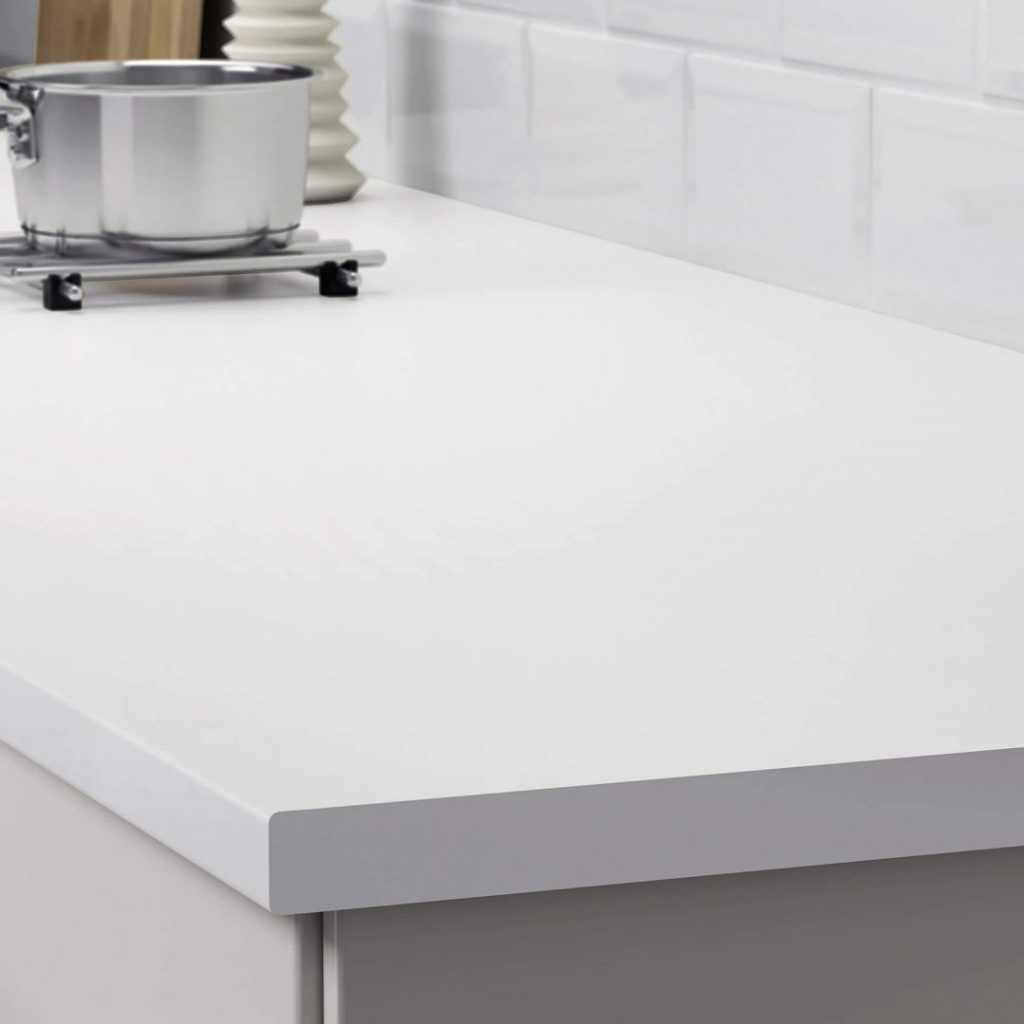 It comes in 3 different sizes and is absurdly cheap, the smallest, which obviously you'll have to measure up and see if its suitable- comes in at just £23 at the time of writing!
You'll also get side strips included, so if you do choose to cut it down to size, you can finish the edges to keep your battlestation looking clean.
EKBACKEN
The EKBACKEN comes in a couple different colours and sizes, and is another laminate/particleboard combo.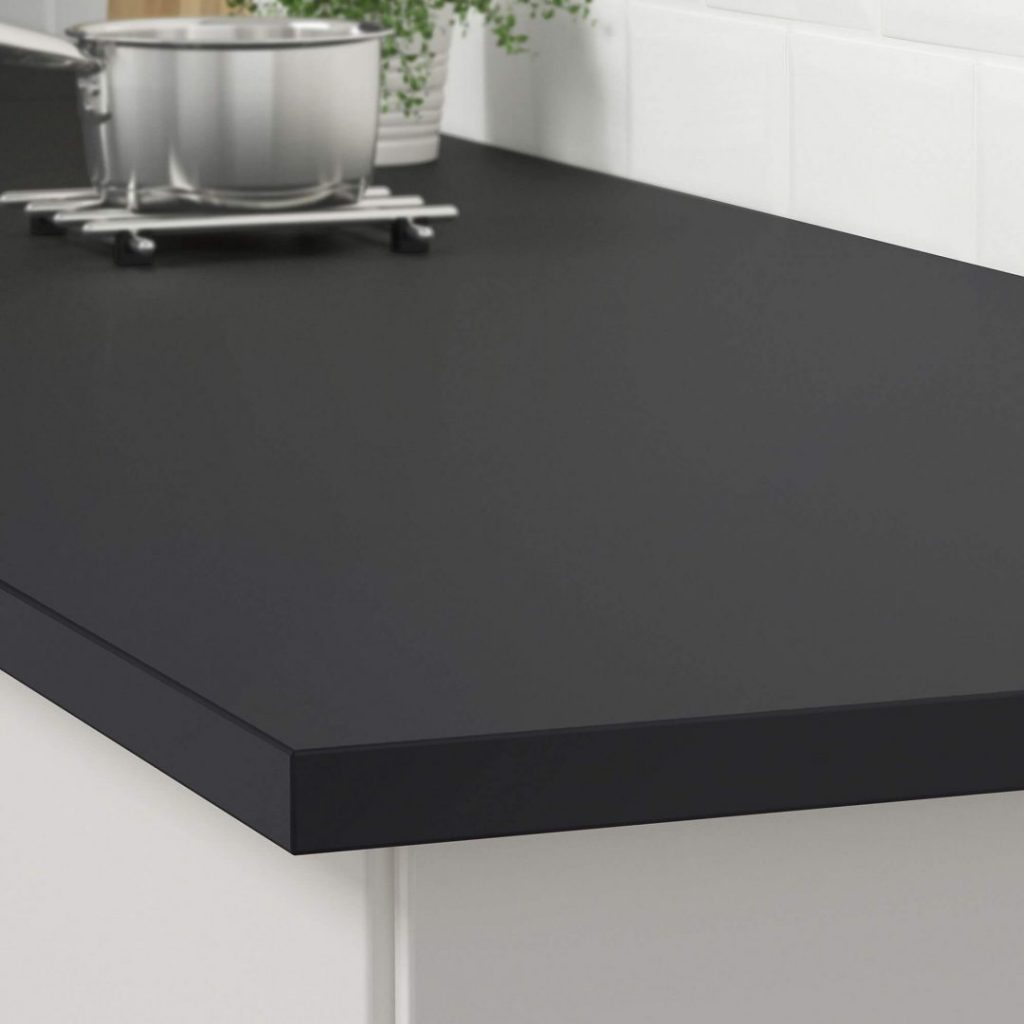 There's a few variations of the ECKBACKEN, its a little pricier than the LILLTRÄSK, and to be honest, I can't really see why, but here are some examples
Matt anthracite
Ash effect
Again, very reasonably priced, but remember, its not solid internally, so make sure you fully examine your use case and think through your implementation, to make sure your not going to put too much stress on this worktop.
PINNARP
The PINNARP comes as a particleboard/veneer combo, like the previous entries, however, comes with the choice of either walnut or ash veneer, again it's a nice thick layer that IKEA prides themselves on, so you can refinish it, (albeit probably not hundreds of times) to your hearts content if you start noticing wear spots.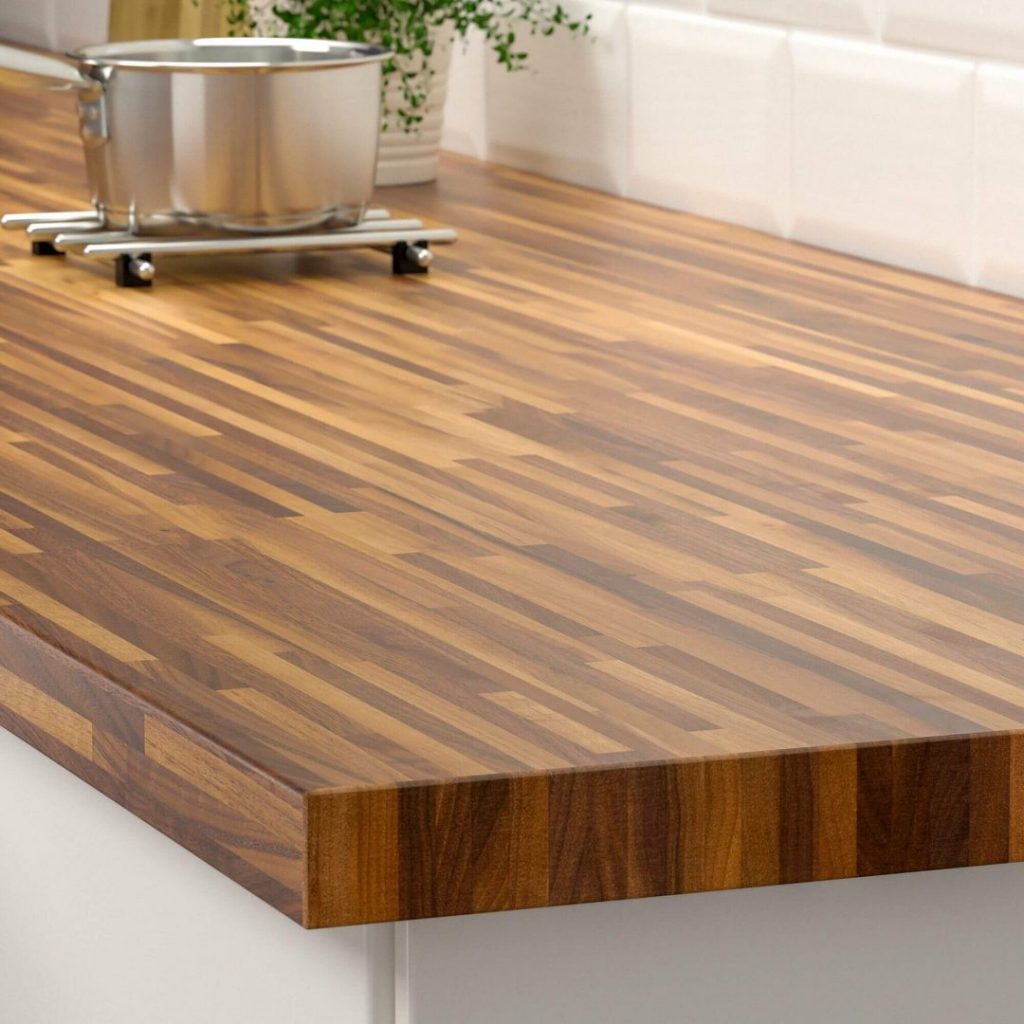 So as mentioned, ash or walnut, personally i like the walnut for this, it looks great in the pictures, and im sure it looks better in person.
Walnut
Ash
BARKABODA
Despite being a veneer/particleboard item, the BARKABODA is one of my favourites in this list, firstly for its awesome name, and secondly for the grain, its beautiful!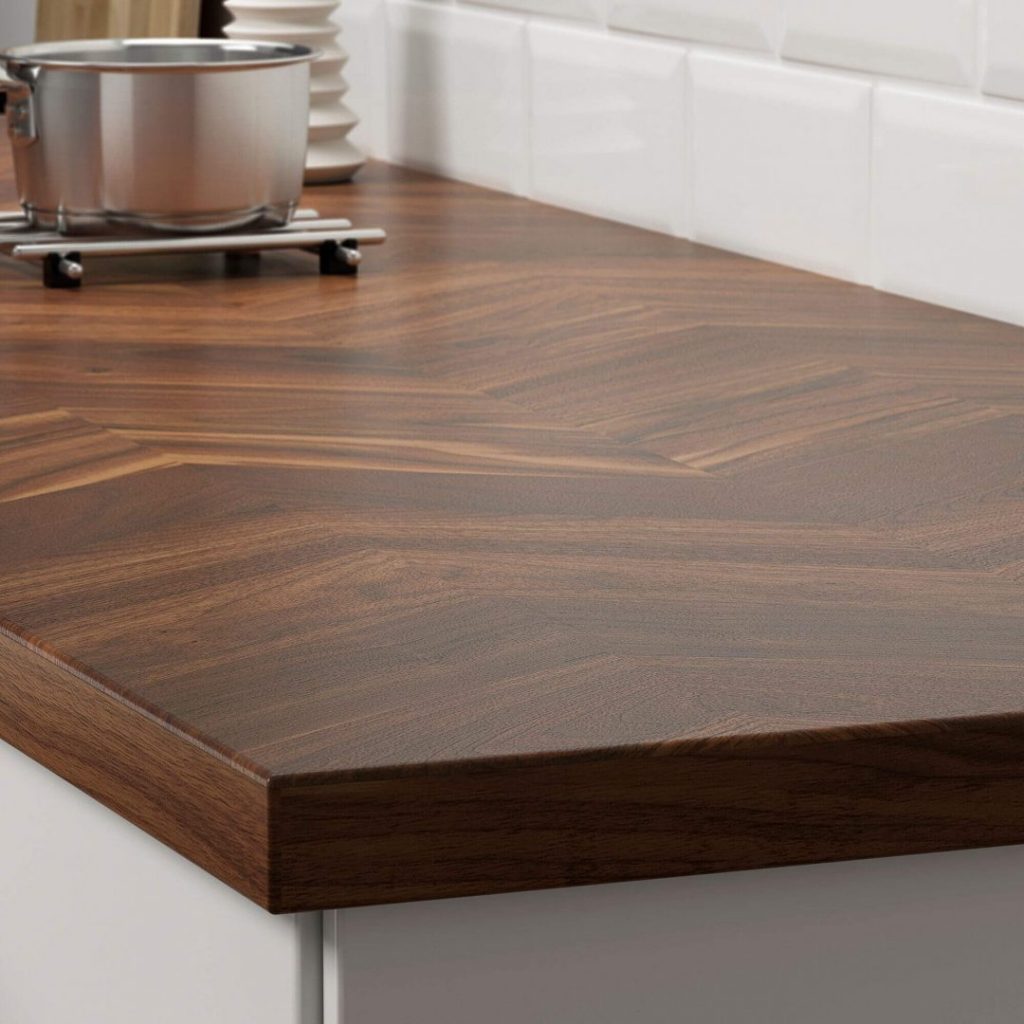 This grain is very unique and definitely going to make a strong statement with your rig placed on top of it! the BARKABODA comes in a couple of standard sizes which you can see below.
SKOGSÅ
If you've ever fancied a desk made from butcherblock, this is about as close as your going to get in particleboard form, with IKEAs standard thick veneer its going to feel the part too, and what a great grain the SKOGSÅ has.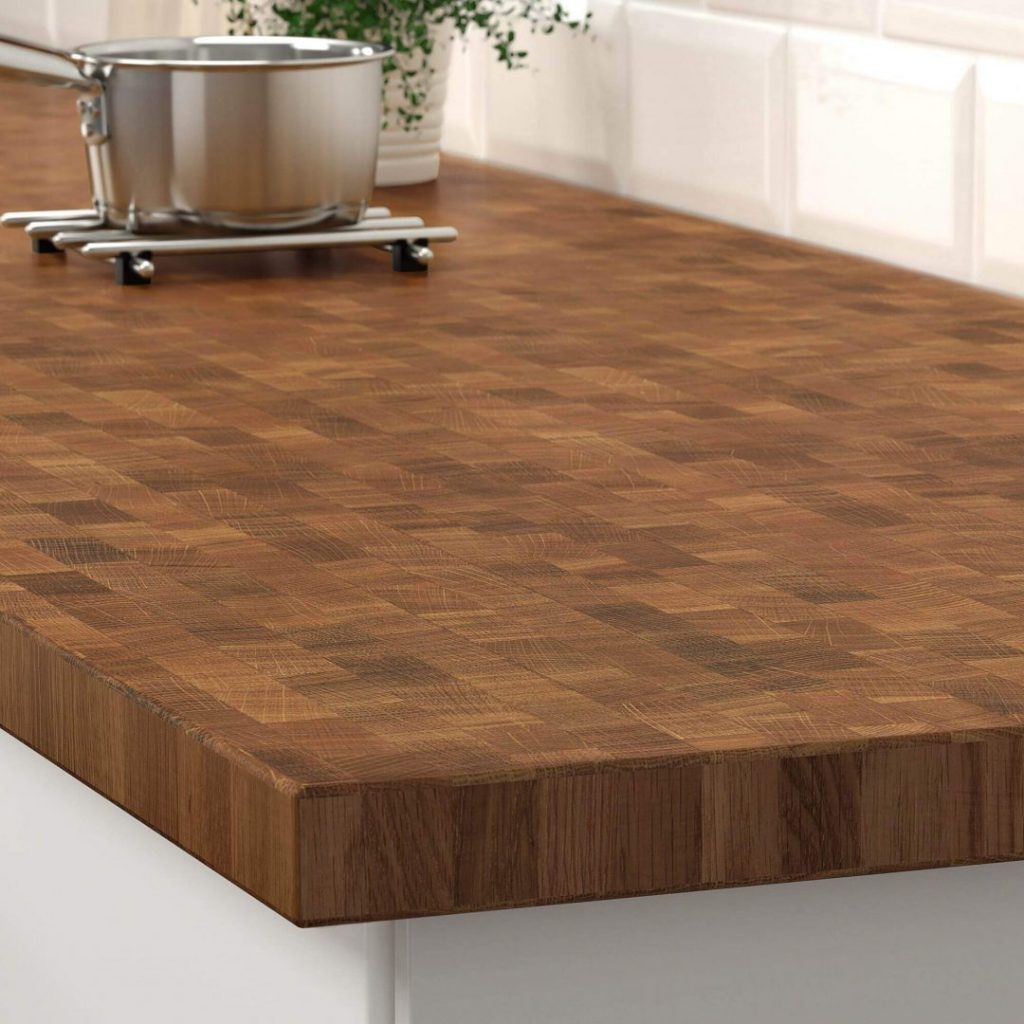 It is a pricey piece, but it does look the part, here are the sizes available.
SKOGARP
This right here is the big beefy boy, it's actually (disappointingly) the only solid wood offering that IKEA has right now, let's hope that isn't a sign of things to come.
It comes in oak, beech, or birch, and every single one is going to be a little bit unique, because of the grains, so whilst being incredibly hard-wearing, you're going to get a unique and beautiful piece of wood for your battlestation.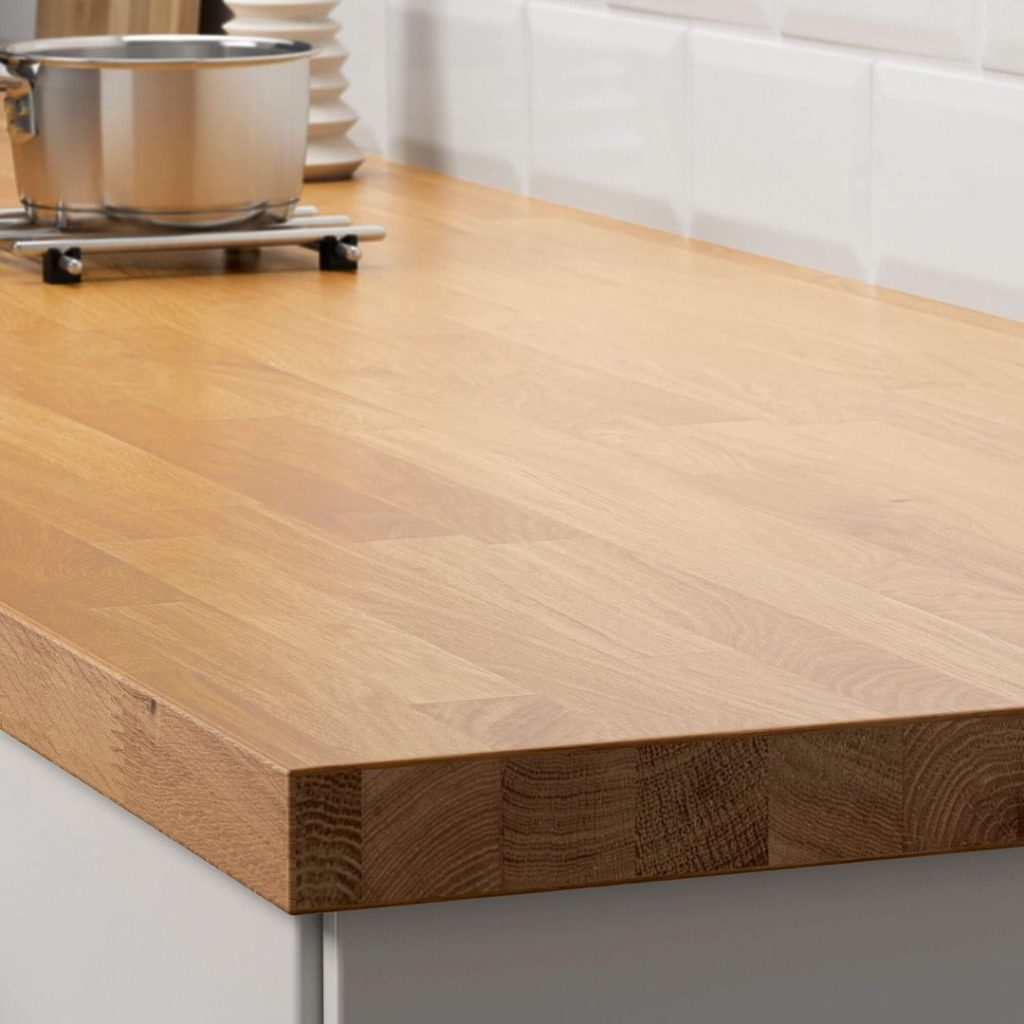 Pricing naturally for this is more than our other contestants, and its also custom made on request, which does make me wonder if they are being phased out, given we have already seen the demise of the previous offerings such as the HAMMARP and the RÅSUNDA.
Personally im a fan of the Oak board, but here are all three so you can make your own mind up.
Beech
Birch
Oak
Solid Wood vs Particleboard & Veneer
Its no secret that solid wood is better for our use case, i mean why wouldn't it be- the only reason I can think of someone ruling out solid wood in favor of particle board is either for monetary reasons, which is fair enough, or for weight reasons, but ease of transportation seems a bit silly when it comes to something like this, your not taking it to a LAN party.
So, if you can afford it, go for solid wood, it's a no brainer. It's stronger and more resilient, you can refinish it a significant amount more than you can the veneer offerings, even if IKEA say they are extra thick, and they're heavy and chunky, so you know it isn't going to slip on you.
It's not to say that particleboard is bad, it isn't, its surprisingly strong, and you'd also be doing your bit for the environment, and IKEA still rates them for 25 years, which means it will still be there for every single one of the 25 yearly battlestation builds you assemble, because you have a problem.
From the same amount of wood needed to make one solid worktop, it's possible to produce five thick veneer worktops.

Johnny Rietz – IKEA
But that being said, would I take my particleboard/veneer desk, clamp a monitor mount too it, and add multiple screens, eh, I dont think that I would, sure you could add an additional leg for stability, but then youve got a leg right where you want your own legs to go, solid wood solves this issue.
So solid wood > particleboard.
Conclusion
If solid wood is your bag, naturally I can only recommend the SKOGARP from the IKEA range, because it is the only solid wood worktop they offer, however, if your leaning to particleboard, for me I am a fan of the KARLBY or the BARKABODA, I think they have great grains and textures, and you're getting a great price.
If your looking to cable manage your new countertop, check out my tips below.
Well, thanks for reading! If you think I've missed something, do let me know by emailing hello@rigz.io!