You have probably heard of the IKEA Karlby, its a popular selection within the IKEA countertop range, and again a popular choice within the battlestation community, were going to run through a few great Karlby setups, and talk a bit about this ever-popular desk choice.
What is the IKEA Karlby
The Karlby is a worktop sold by IKEA, it's a particleboard desktop at its core, with a solid wood veneer on the outside, which gives you really great bang for your buck while keeping the solid wood aesthetic for great visuals.
It comes in the following outer materials, and if you were to ask me, walnut is my favourite.
If you are interested in the IKEA countertop range, but maybe you dont like the Karlby, you can check out my countertop mega post for more information on the full suite available at IKEA.
Best IKEA countertop for a desk
IKEA offer a lot of countertops & worktops, but which should you use for your battlestation? Let's run through them all and go over the pros and cons of each of them.
Is Ikea Karlby real wood?
The IKEA Karlby is a mixture of real wood, and particleboard, that being the core of the desktop is particleboard, and the veneer on the outside is made from real wood.
As mentioned above these are beech, oak, birch, and walnut for the veneer. It's not your standard veneer either, its a very thick variant, so perfect for the abuse that a desktop can receive.
The thick veneer makes the surface hardwearing, and it saves raw material – a lot of it. From the same amount of wood needed to make one solid worktop, it's possible to produce five thick veneer worktops.

IKEA
What is IKEA Karlby made of?
The IKEA Karlby is particleboard, so its made of all sorts of pieces (and even scraps) of wood that are repurposed and compressed into the desk you purchase, as IKEA says, nothing is wasted.
Another advantage with this production technique is that you can use the whole tree; the stem as surface, and scrap bits – curvy, bent branches and small twigs – for the particleboard on the inside.

IKEA
How to make a Karlby Battlestation
As with all things IKEA, these desks are simpler than you might initially imagine, as your buying a single slab of a desktop, all you need to think about is what you're going to put them on.
There's the increasingly popular Alex drawer combo, which ill cover in more detail further, or you could find a nice standing desk setup to go with your Karlby or some other simple legs- it really is down to your taste.
When you have the desktop mounted, from there you need to think about your cable management, which primarily consists of a mixture of the following:
Cable Management Tray
Cable Ties/Velcro Ties
Grommets
You can do 90% of the fight against cables with these things alone, but if you want to go into more detail about cable management, you can read this post on the subject.
Does IKEA cut Karlby?
IKEA will ship in 3 possible sizes, 186×3.8cm, 246×3.8cm, and 45.1-63.5×3.8cm, outside of those sizes, you will need to cut the Karlby down to size yourself, but IKEA will also include 2 additional solid wood edging veneer strips, in the variant that you chose, so that you can refinish the edges you cut.
How do I attach my legs to Karlby?
While particleboard is not as traditionally strong as solid wood, you can still affix your legs to the Karlby using normal wood screws, just ensure you choose an appropriate size screw. Where possible, use as much of the particleboard as you can, with the largest screw that will fit, without coming out the other end!
This ensures if you ever move the desk around, the screws are less likely to rip the particleboard and become loose.
How to make a floating Karlby desk
Here we have a mega build by Ruzrat who really made a whole feature piece out of his Karlby. This floating Karlby setup consists of a multitude of threaded & anchored rods throughout the wall, which are the fixed to the Karlby from underneath, with Alex drawers, pretty much for show at this point, what a great setup!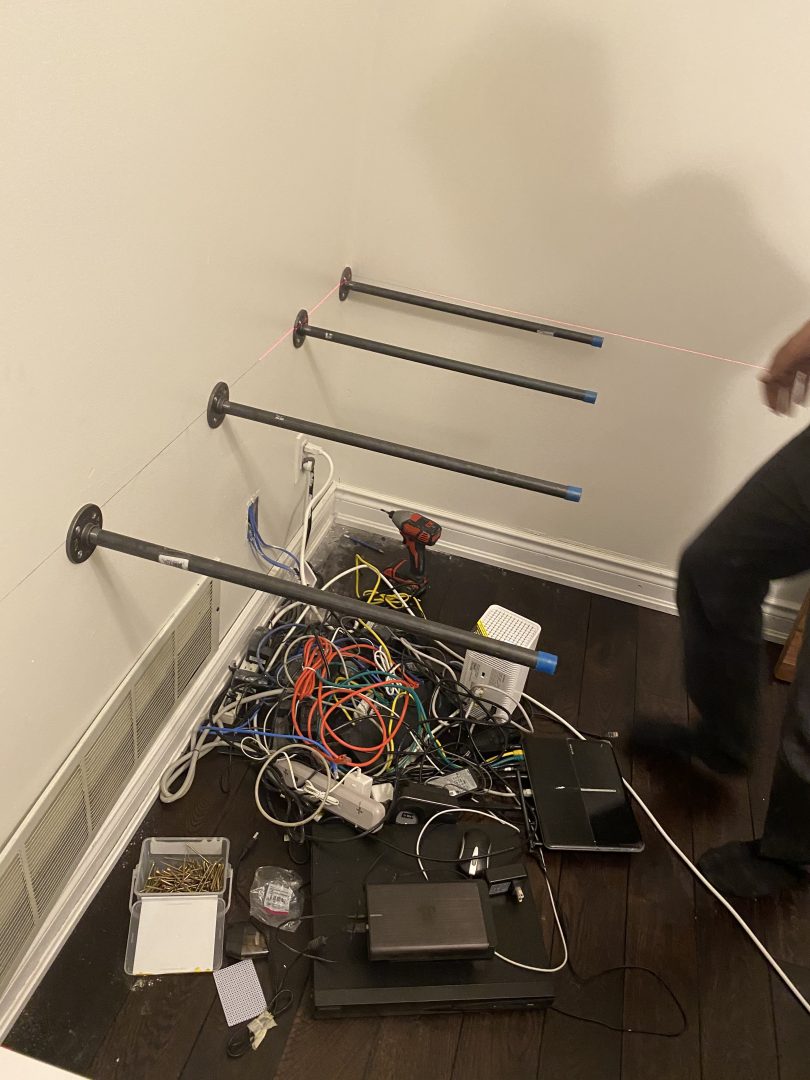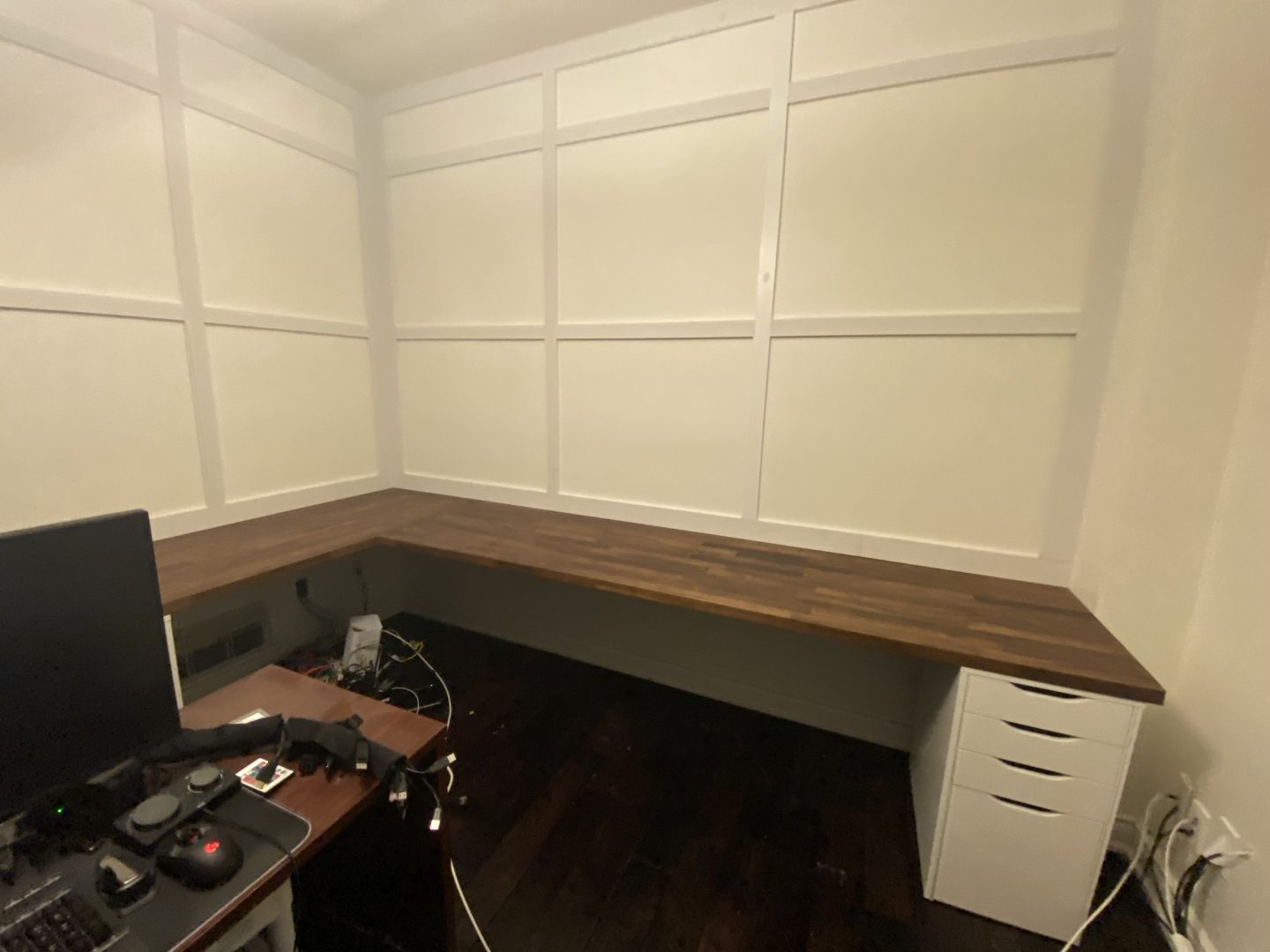 No flexing at all on the Karlby. You will see how I did the installation which won't even flex the Karlby. It's a full floating style Karlby installation. I can take out the two Alex drawers and the Kalrby will be perfectly fine.

ruzrat
Below is the complete setup, RGB and all, it looks great, and the Karlby end piece is a nice touch too!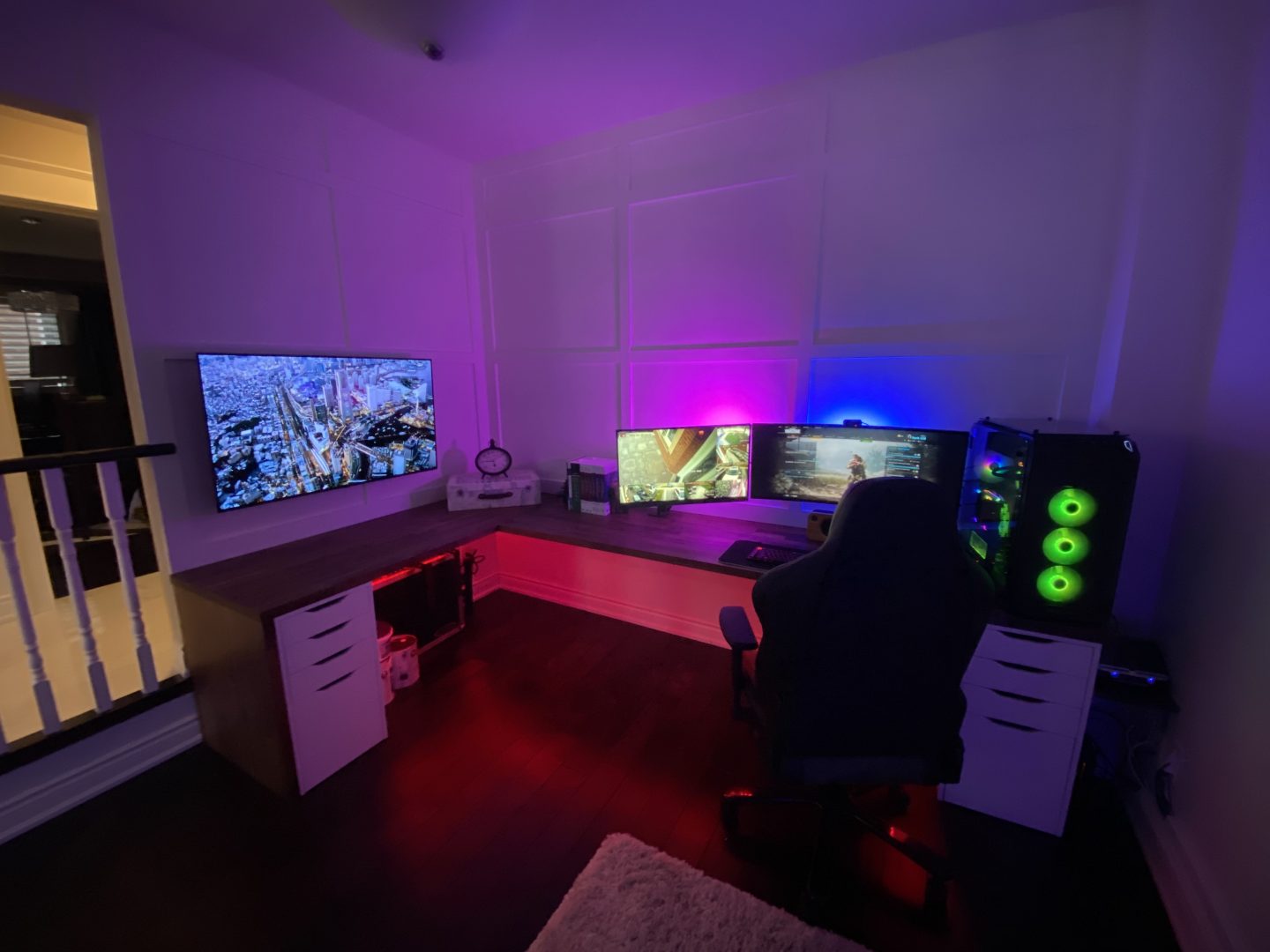 186cm Or 246cm Karlby for a battlestation?
The obvious first answer to this is, how much room do you have?! Generally, you should go for the biggest you can accommodate in your space, as you don't want to get down the line & wish you need that extra space, for those new speakers for example.
If you are limited though, 186cm is still massive by conventional desk standards, so there is plenty of room for activities there, but I think if you have the room, go for the colossus and you wont regret it.
How strong is the IKEA Karlby
For most battlestation's, the IKEA Karlby is plenty strong enough, let's do a deep dive into the strength of the Karlby.
Ruzrat isn't worried about the strength of his Karlby, and even said he probably wouldn't change for solid wood given the chance, which is a great testament to the Karlby's strength!
Karlby is pretty thick which was surprising. The material is really good and can't go wrong for the price. I don't think I would go for solid wood.

ruzrat
Does the IKEA Karlby sag?
You might be concerned with the idea of particleboard, does it have a weight limit? But its actually much stronger than you would think, it's certainly not going to buckle under the weight of the average user's possessions – and for most people, you won't need any additional support for your Karlby.
Scerstt on Reddit said that he is running 3 monitors mounted singularly in the centre of his Karlby and isn't even seeing any flex, which is great to hear- a not so weird flex.
Just for peace of mind, I have the 2.4m version with no supports in the middle and 3 monitors on one mount in the middle and it doesn't even flex. You're good bro.

scerstt on his Karlby setp
Add Strength with Adils
If you are worried, or perhaps your feeling preventative, you'll hear the Adils leg mentioned a lot, it's super cheap, and if you pop one of these in the middle towards the rear, it will give you that additional peace of mind. check them out on Amazon or IKEA UK.
They're super cheap too, which always helps. u/xElementzx above did this with their setup, however opting for 2 of them, spaced a bit further apart, so you can be confident that desk is not going to flex at all.
How much does the Karlby weigh?
The Karlby weight varies depending on the size, and material that you choose, roughly you can expect the desktop to be within the range of 29-31.5kg for the 186cm variant and 38-41kg for the 246 variant. Here are the full stats.
| | | |
| --- | --- | --- |
| Material | 186cm | 246cm |
| Birch | 30.53kg | 40.65kg |
| Oak | 31.36kg | 41.39kg |
| Beech | 29.81kg | 39.16kg |
| Walnut | 29.51kg | 38.88kg |
IKEA Karlby Quad Monitor Setup
Blues & pinks will always be cool- that outrun/synth style lighting is just great, but more importantly, here we can see the Karlby handling 4 monitors, sure it has additional legs as we mentioned earlier, but still, looks great!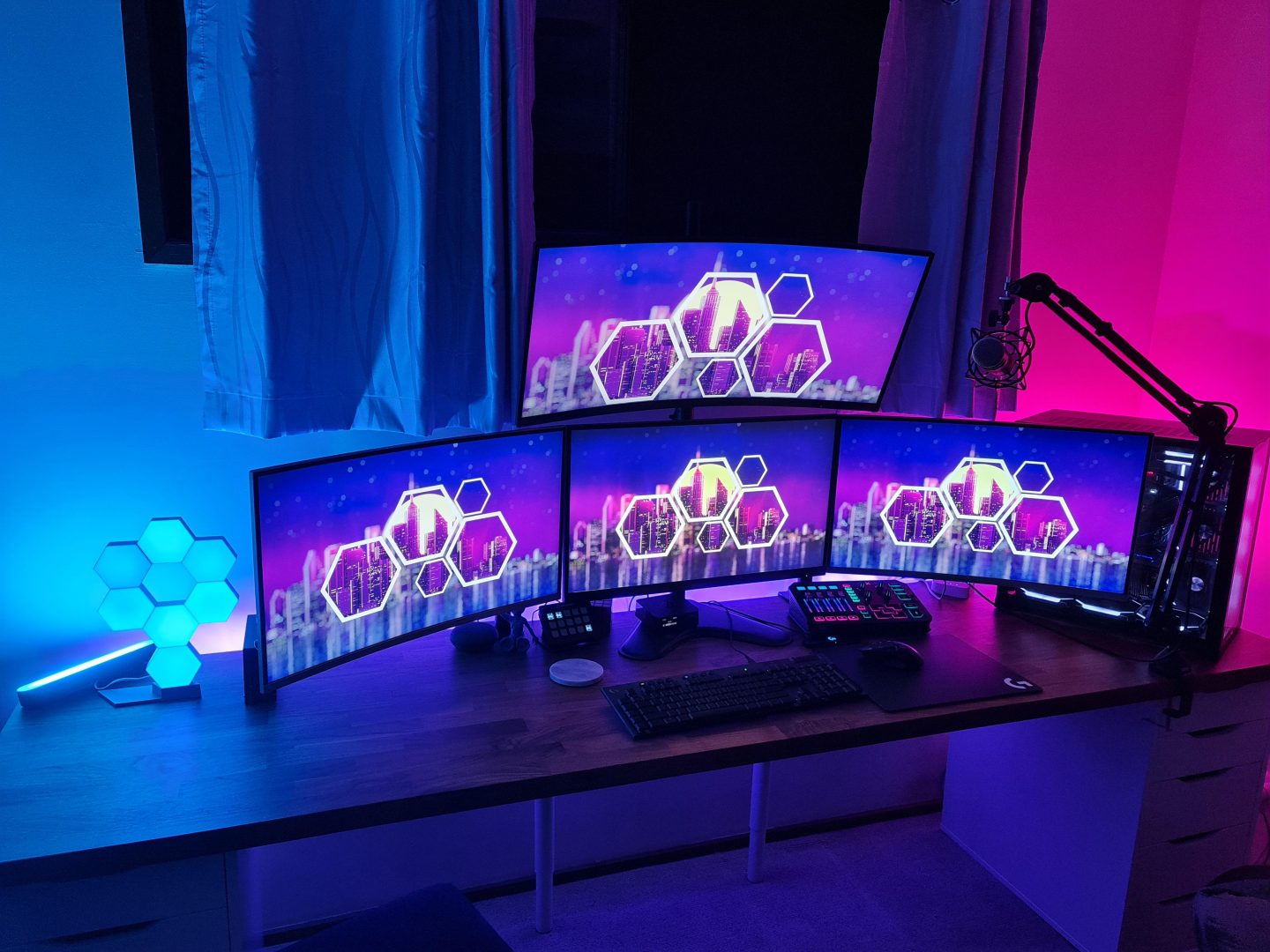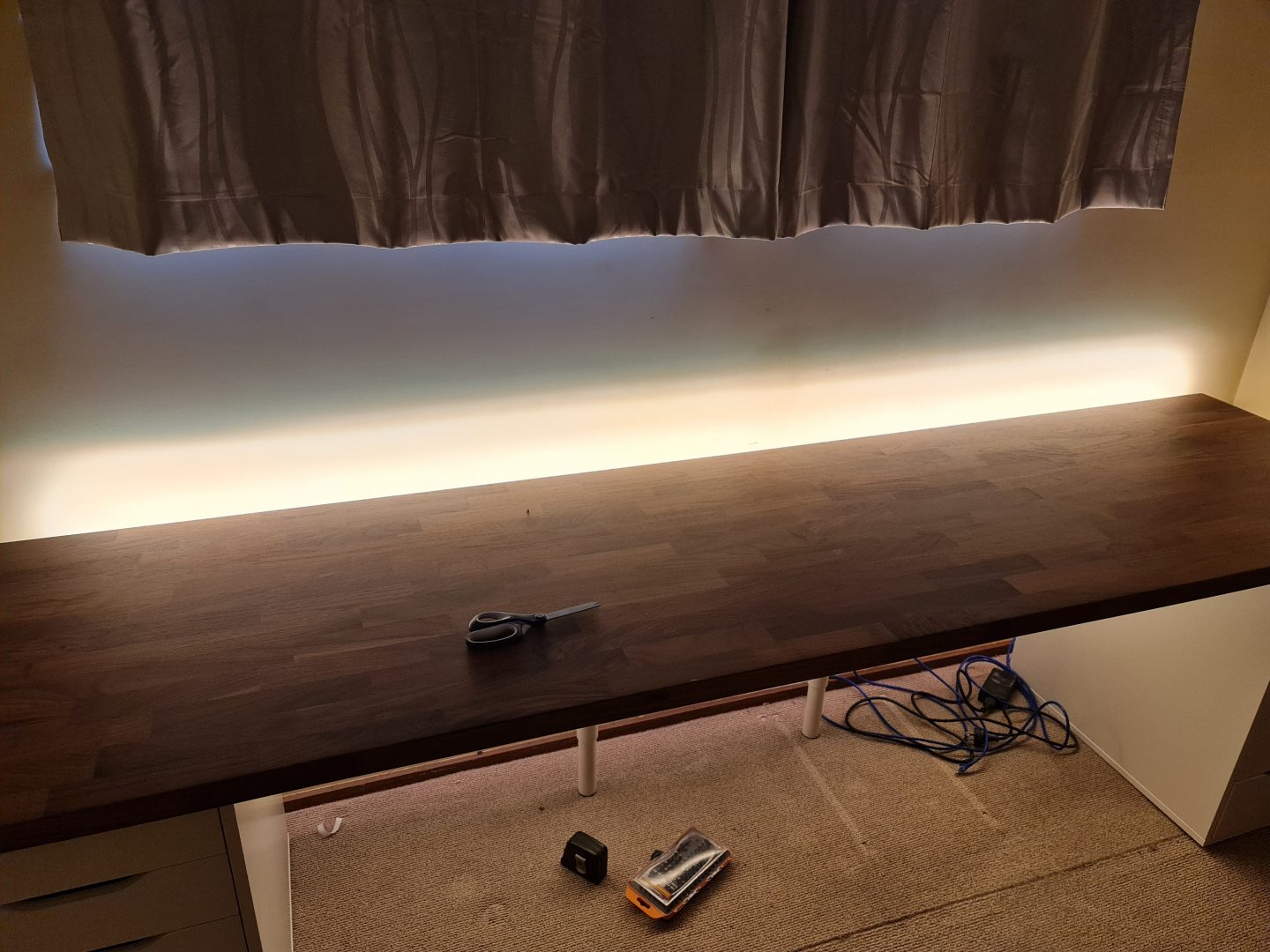 IKEA Karlby Wall-mounted Battlestation
Another nicely executed Karlby here, with a wall-mounted monitor, this is the 186cm Oak variety, and unless my eyes deceive me, this has a stealthy mounting system that likely consists of rails at the two sides, possibly even the back edge, which results in a very clean floating look.
Muzza80 reported the 186cm variant was perfectly sized for this nook in their home!
186cm which unbelievably was mm perfect for the space I have there, didn't have to cut it at all 🤣👌👍

Muzza80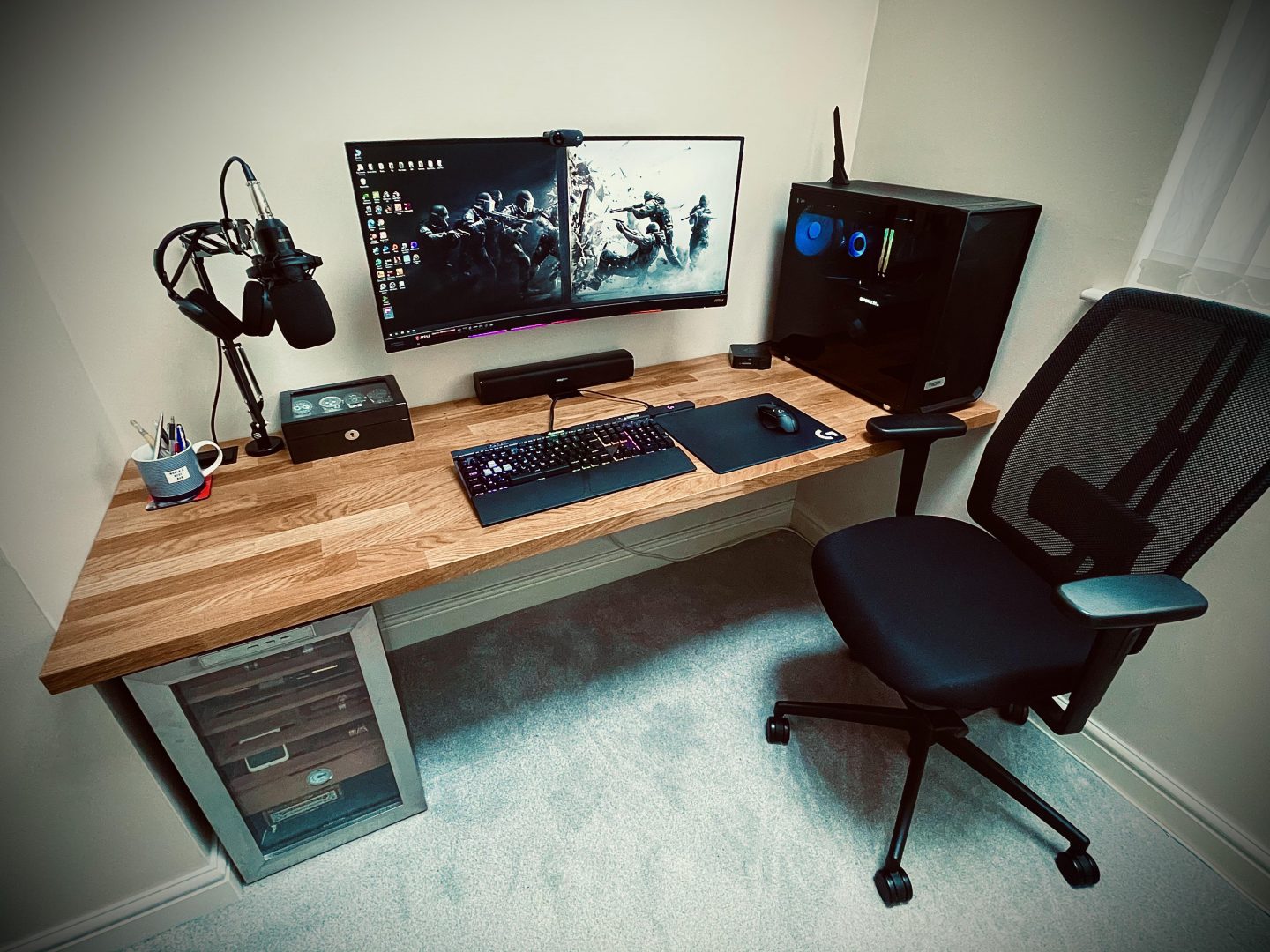 If Muzza had needed to cut their desk to size, its no problem because they come with additional edge pieces of the solid wood of your choice, so when you've figured out the size you need and then attach the new edges!
The grain on the Oak Karlby is so bright and clear, it has a real butcherblock vibe to it.
Karlby + Alex Drawers
We've all seen it before, I even have the Alex drawers in my setup. Are we tired of it? No, we are not. 💪
Here we can see Nyquizzle's quintessential Alex drawer setup, of course, it's entirely unique for a lot of other reasons, the artwork on the wall looks great here, and those ever-familiar drawers look great.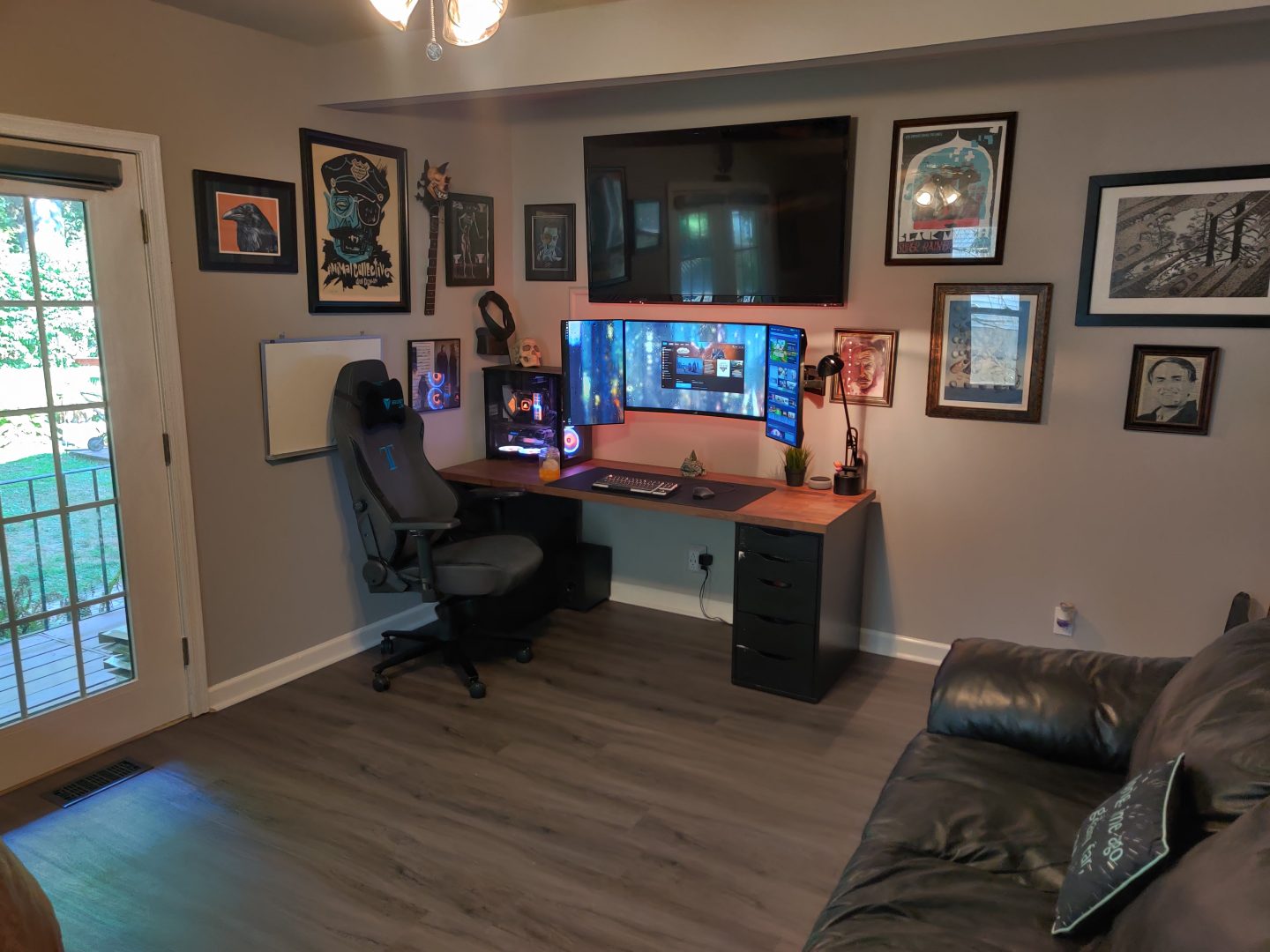 If wondering how people typically attach the two together, there's a few ways, you could simply use the small rubber steps that come with the desktop, because in all likeliness the weight you're going to put on top, gravity will handle the rest for you.
You can also use some L brackets, but then you'd have to drill into your desks, although it will all be out of sight, so maybe that's OK. Personally, the fixation of my desktop to the drawers is 100% gravity powered.
Conclusion
The Karlby is a great & beautiful choice for a desk, and going for particleboard should never make you worry about it breaking in half suddenly, sure, in some ways, it might not be technically as strong as a solid wood piece- but you're going to pay for that.
The outer solid wood veneer gives the same visuals of the solid wood and even the same feel to the touch, so for 99% of intents and purposes, you'd never know and will feel just like your sitting at a solid wood desk!
The Karlby is reasonably priced & looks great, ive said it before but my personal favourite is the walnut, that dark colour looks great with a nice grain.
So if you're looking for a new desktop to take your battlestation to the next level, definitely give the Karlby a look.